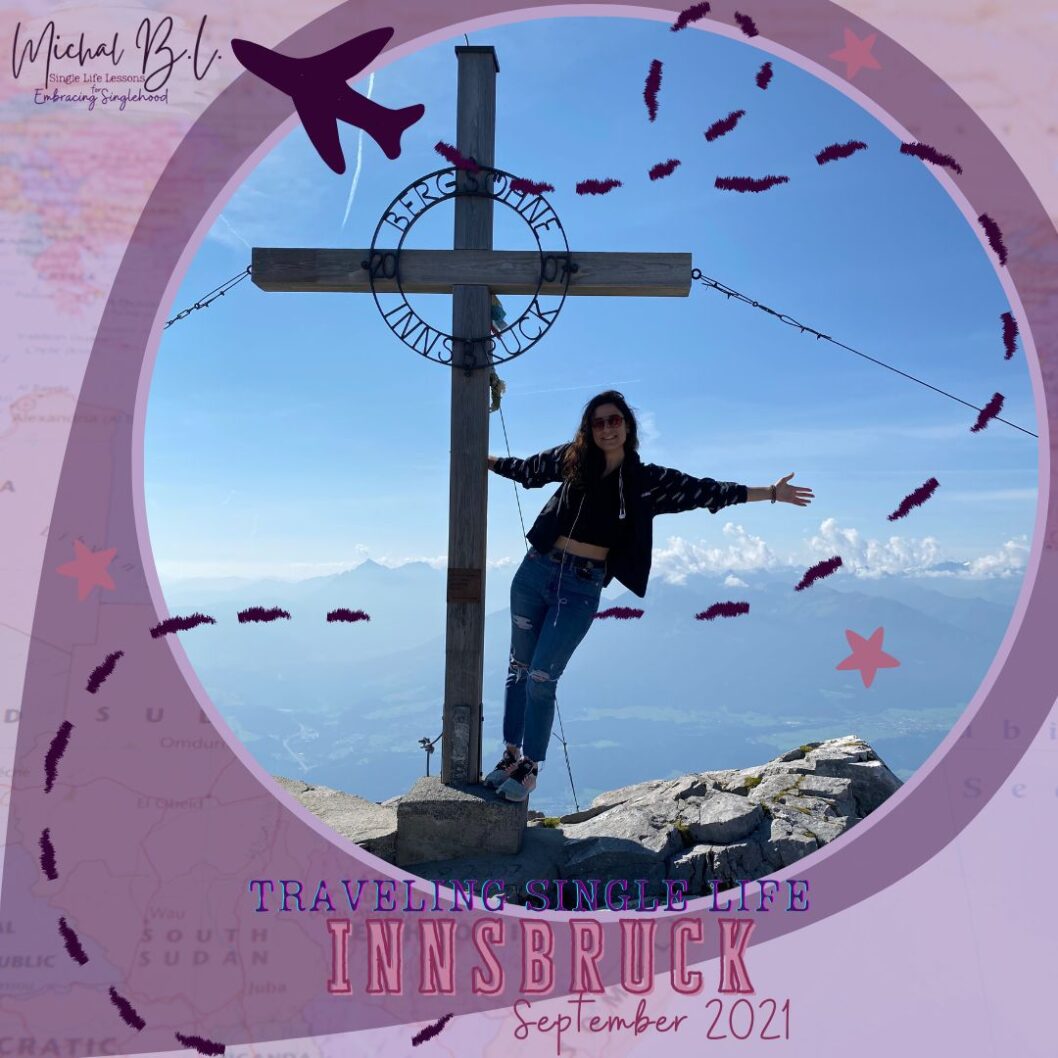 Travelling & Working Single Woman in Innsbruck during COVID
Tips, tricks & advice for the traveling and working single women in Innsbruck during COVID.
While Innsbruck isn't the ideal location for remote workers, especially in comparison with Vienna, or even Salzburg… It is still an amazing destination for solo travellers. It is definitely possible to work remotely from Innsbruck, but personally I would suggest a long weekend off there. If, like me, you still want to work while there… You can take a few days extra. I was there for a week, and even with my work hours it was more than enough to also explore the incredible town. Innsbruck is quite small and while there's plenty to do there, you don't really need a whole week for it. But if you do decide to spend a whole week, I'm sure you won't have any complaints.
Travelling to Innsbruck
I took a train from Salzburg to Innsbruck and then from Innsbruck back to Vienna. Which is probably the cheapest and easiest way to get to Innsbruck. If you're planning a single-city trip to Innsbruck, there is an airport nearby if you don't want to pass through other cities. However, from searches I did, all flights were quite expensive. Flights to Vienna from anywhere in Europe are much cheaper, so it would probably work out better to fly to Vienna and from there a train to Innsbruck. This can also be a great opportunity to spend a day or two in Vienna. Taking the train is also the easiest, most simple and convenient way of travelling in my opinion. Especially if you're travelling alone, so you don't have to worry about transporting by yourself. You can also work on the train, if you want.
Travelling to and exploring Innsbruck is such a unique experience, and is certainly a destination I recommend. Especially for solo travellers, because out of the three cities I visited in Austria (Vienna and Salzburg)… I think it was the most challenging, which also made it the one I learned most from.
Here are a few key pointers for solo travelling in Innsbruck:
Just like Salzburg, Innsbruck is much smaller than Vienna, and a lot of the main attractions are within walking distance. So there's much less commuting and traffic. Which also means you don't have to constantly figure your way around alone.
One of the biggest challenges is that it seems to be a very popular family and couple destination. Until I moved from the airbnb I was staying at, to the hostel, I didn't meet any other solo travellers. Which was a bit frustrating, but also helped me be more comfortable with myself. Especially when surrounded by couples and families.
It is absolutely breathtaking, one of the most picture perfect places I've visited. Innsbruck is definitely a great place for fellow creatives and writers, looking for the perfect spot to write or draw.
This is also a great place to get over your fear and shyness of asking people to take a photo of you… Because there are far too many breathtaking views to miss out on a photo with.
Accommodations
Out of the three cities I visited in Austria (Vienna and Salzburg), Innsbruck was the most expensive, which was most prominent in the accommodations. In Vienna you can find the cheapest, both in airbnb and hostels (with the latter being slightly cheaper). And Salzburg is somewhere in the middle, with hostels being cheaper than airbnb's as well. In Innsbruck, however, the airbnb's were actually cheaper than the hostels.
AIRBNB

– due to the price difference, in the first five nights I stayed in an airbnb. There was no point paying extra or the same amount for a shared hostel room, if I can get one for myself at an airbnb. It was close to everything and was shared with other travellers, so I could still meet some people (even if it was just to talk to in the kitchen). It was also great to have some time to myself after spending most nights in shared hostel rooms.

HOSTEL

– Unfortunately, the MEININGER Hotel, where I stayed both in Vienna and in Salzburg, wasn't yet opened in Innsbruck. So I found a different one, which was actually very cool. Montague & Beers hostel has a very different and cool concept, which is also probably not for everyone. All the beds are in small cubicles, which essentially means you share the room with more people. But you do get a bit of "privacy" inside your cubicle. There's also a really cool bar at the entrance of the building, which belongs to the hostel.
Where to meet people
When I was in Innsbruck there was no free city tour for some reason, perhaps because of the pandemic… So I couldn't use one to meet people, even though it's my go to way. However, there are still other great ways to meet people when you're travelling solo.
Hostel / Airbnb

– Hostels will always be the best and easiest way to meet people when travelling solo. Being in the same room as other people gives the best opportunities to start conversations, even when you're very shy. People who stay at hostels also clearly want to meet others, so you're less likely to feel like you're overstepping. Similarly to Vienna, also in Innsbruck I found an airbnb with a private room, but shared common areas. Not all airbnb's have common areas or even more than one room with other travellers. So when you do your search, I recommend that you pay attention to that. This is the airbnb I stayed at, and it was great.

At the attractions

– there are so many great attractions in Innsbruck, and because it's so touristy, there are always many people to meet. This may require you to put yourself out there, but it's definitely worth getting over your shyness to get to know new people.
At restaurants or coffee shops – while this is not the ideal place for remote workers, it does, however, have a lot of bars, restaurants and cafes. So if you're anyway sitting and working at one, try to strike up a conversation. I even started one with a lovely waitress at a restaurant I was sitting at.
Getting around
As I mentioned above, Innsbruck is very easy to get around, especially since it's so small and there's also a lot of great buses, which are fairly easy to use. Most of the attractions and the main areas are within walking distance… But even the ones that are a bit further away are easy and simple to get to by bus. Personally I also got an Innsbruck card for my first couple of days (which I will write about in a future blog post)… But even once it expired, I got around very easily.
In contrast to Vienna and Salzburg, I didn't get a weekly pass for the bus, as it's not needed here. Again, everything is so much closer, and all the hostels are also much more central than in the other two cities. So if you find yourself needing to get to an attraction a bit further away, I would recommend a day pass or a single ticket.
Working remotely in Innsbruck
As I mentioned, Innsbruck is not the most ideal place for remote workers, as there are not many places to work. Similar to Vienna and Salzburg, also Innsbruck doesn't have many places with WIFI. There are so many cute places, but unless you can hot-spot yourself, they won't be very laptop friendly.
Find an accommodation with wifi that you can work from during your working hours, then tour with the rest of your time. This will also help you save some money. Even though it may be a small sum, if you're on a budget, any amount counts.
Get a local sim card and hot-spot yourself – which may only be worth it if you're planning a longer trip around Austria, or even europe.
You can also plan a two to three day trip over the weekend, or take those days off, and just spend the whole time touring. Instead of doing a whole week of half working half touring.
So, why Innsbruck?
It will likely be much shorter to tell you why not Innsbruck, because I cannot think of any reason why you shouldn't visit. If you're not planning a long trip around Austria, it may be trickier to get there… Because depending on where you're coming from, you'll likely have to pass through another city first. Or pay for an expensive flight. If you ask me, it's worth the inconvenience. It's a picturesque city, so different from any other city I've been to. Which is an achievement, because so many European cities look alike. And so many of them are picturesque. You also feel remote and far out, which I think is a great way to disconnect and recharge.
CLICK HERE to sign up and get your own FREE packing list – Autumn Edition!:
By signing up you will also receive my Single Life Bundle as well as exclusive tips & advice
Happy & safe travels!
Stay safe, stay healthy and stay strong!
Michal B.L.
please share, pin and spread the love 🙂