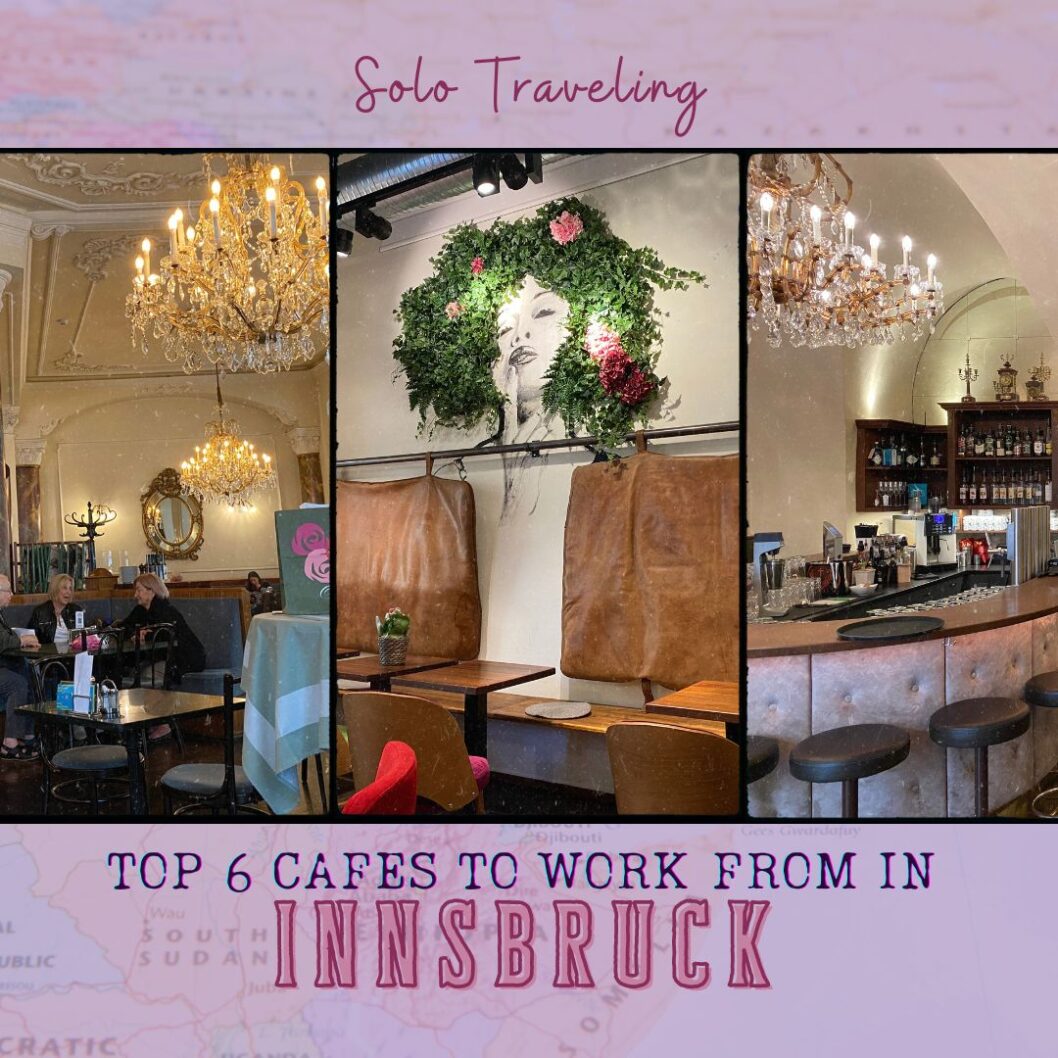 Solo Travel – Top 6 Cafes to Work From in Innsbruck + Tips
These are the top 6 cafes in Innsbruck to work from or just sit and write or read, when you're travelling and working remotely. This is especially great if you're also a solo travelling woman, like me.
As I mentioned in my "Travelling Single Woman in Innsbruck" blog post, Innsbruck isn't the greatest of places for remote workers. Just for the fact that there aren't many places to sit and work for more than an hour or two. This may not be such a big deal if you don't mind sitting in the same place every single time, or if you don't have a lot of work to do. I like to try out different places and change up the view, it also makes working that much more fun. And for me it's also part of the experience. If you don't mind, it really isn't such a big deal, but do make sure to come prepared in advance, because you don't want to waste precious time on searching for a cafe or place to work.
If you like to travel prepared and find some laptop-friendly places in advice, before your solo trip… This is the right place for you!
Check out the end of the post for the three cafes that were a fail, as well as 5 tips for finding the right place to work from, while wasting less time.
Breakfast Club
This cafe was mainly recommended for their breakfasts, and they certainly delivered. The prices aren't cheap, so I personally wouldn't go here every day, especially if you're on a budget… But it's definitely worth going at least once. That being said, because it's so popular, it's also not the greatest place for remote workers. Personally, I felt bad pulling out my laptop, and while the staff was friendly, I did feel like they gave me side eyes. It's certainly not the kind of place you can sit for hours. But it is good for one morning, just for the first hour of work as you eat your breakfast. (Their biggest hint, however, is their WIFI sign)
Address: Maria-Theresien-Straße 49 & 49a, 6020 Innsbruck, Austria
Café Central
If you wake up feeling extra fancy, this is the right place for you. I'm not sure if it's actually considered high-scale in Innsbruck, but to me it definitely felt like upper-class. The prices weren't sky high, but they also weren't so cheap either. So if you're on a budget, it may not be the place for you. It was a really nice, different experience and I really enjoyed it, even though the service wasn't great. The food was okay, and so was the coffee, but certainly not the best I've had. It is, however, a very big space, with a lot of places to sit, so while they may give you stink-eye, you won't feel so bad taking up space for a while. It's also big enough that you can just grab a corner, and hide yourself away.
Address: Gilmstraße 5, 6020 Innsbruck, Austria
Cafe Bar Moustache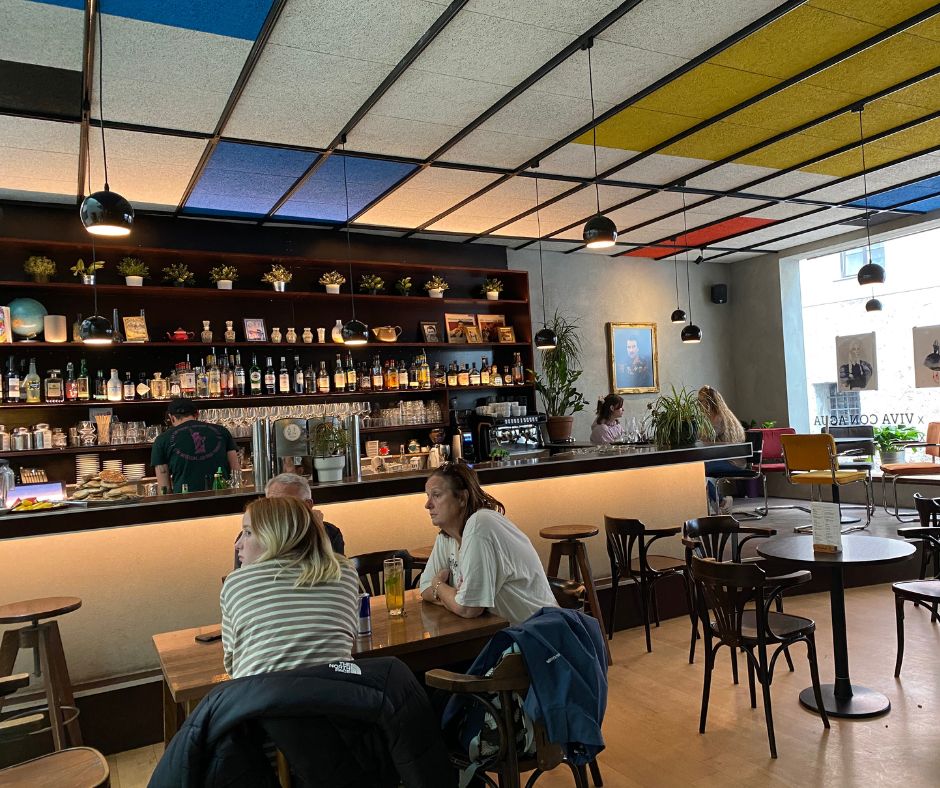 If you're looking for a place with both good coffee and good food, this is the place for you. They actually have good, healthy food and amazing coffee, all very reasonably priced. You can also sit here in the evening and get a very nice glass of wine. They didn't seem to mind when I sat here for a few hours, and it also felt quite comfortable and nice for me. They also have some outlets, which is a huge bonus. The vibes of the place is also very chill, as well as uniquely decorated, which certainly adds to the great work environment. This cafe is truly a chameleon, functioning as a cafe – restaurant by day, and as a bar by night. I also went there at night with a few people I met at the hostel, and it was really unique. But it's not the greatest time to get work done.
Address: Herzog-Otto-Straße 8, 6020 Innsbruck, Austria
Dom Cafe-Bar
I was in search of another cafe, desperate to find a place to work, when I stumbled upon the Dom Cafe. The sweet waitress was just opening up and saw me checking out places like a lost puppy. When I asked her if I could come in, sit and work, she was quick to greet me inside, so kind and welcoming. When I was there it was obviously empty (cause she was just opening up) but the place is huge, with a lot of places to sit, so even if they're full, there's plenty of space. They also have several outlets by many of their tables, which isn't such a given as I've come to discover, so for me it was ideal. Their prices are more or less the same as most of the places in Innsbruck and the coffee is pretty good (but not the greatest). The interior is also extremely beautiful, so it provided me with a great vibe to work in.
Address: Pfarrgasse 3, 6020 Innsbruck, Austria
My Indigo Rathaus
Another case of being hungry and needing a place to work, as I also stumbled upon My Indigo Rathaus by chance. I was walking past it, it looked really nice and cool, my stomach grumbled and the clock ticked, so I went in. This place is decorated so beautifully, I would even go as far as saying it's one of the nicest, coolest cafes / restaurants I've worked at. The food isn't cheap, but it's really tasty, you get a large portion and it's quite healthy. It's also a large place, so even if there are a lot of people, I'm sure you'll manage to find a place quickly. They also have some good hidden spots for you to stay out of sight. There weren't many outlets, but they did have a few, which was very convenient.
Address: Stainerstraße 3, 6020 Innsbruck, Austria
Colours Bar.Bistro
In the last couple of days I was already out of my mind trying to find a good place to sit and work for a few hours, without having to feel bad and move after an hour. The places I liked were either expensive or not laptop-friendly, and most of them didn't open until 10 or 11, and I wanted to start working by 8:00-9:00. Colours was a godsend, and I found it when I moved from my airbnb to a hostel nearby. The service was nice and friendly, they had good food and great coffee. And the best part of course, I could come early in the morning and work for at least 2-3 hours without feeling bad. The prices were the same as most places, and they also had a few outlets.
Address: Innstraße 1, 6020 Innsbruck, Austria
Cafe's that failed miserably
Coffeekult
I spent quite some time searching for this cafe, only to find out it's a self-service cafe, with no place to sit. They do have a couple of other branches, so perhaps those were the ones I read about… But they were a bit further away. Although, I seem to remember reading on google maps that they also weren't open to seating.
Address: Innrain 1, 6020 Innsbruck, Austria
And the one further out – Tschamlerstraße 10, 6020 Innsbruck, Austria
GALERIE – cafe · bar · music · books · games
I was walking around for a while to find this place, only to discover it was closed. It was the place I was looking for when I stumbled upon Dom Cafe. On google it still shows up as open and running, but when I was there it looked like it was completely shut down. Perhaps because of COVID.
Address: Pfarrgasse 6, 6020 Innsbruck, Austria
Haepinest
When I was desperately searching on the map for nearby cafes, this popped up, but unfortunately they don't have wifi, and they're also pretty small. So If you don't have a hotspot and you need space to work for a while, this may not be the place for you.
Address: Innstraße 2, 6020 Innsbruck, Austria
Important tips for finding places to work from:
Ask one of the staff members if you can sit with your laptop, while making it clear that you also intend to order something. Many places don't like you taking up space for so long, especially since they may think you won't order anything. This will save you some awkwardness later. If they say no, you can also ask them if they know of another place you can sit.
If you need to get work done, don't go to a super popular place or a very central place, especially during the peak hours. You won't feel comfortable or able to sit there for long, and it may also be noisier.
Read the reviews of the place and make sure to check them and any other sources for information on the wifi and outlets. You can also see what others say about it, and whether it's laptop friendly or not.
Don't hesitate to ask someone for help or about a place you're looking for, it may be awkward, especially if you're shy… But it's worth getting over the initial fear to not waste time.
Make sure this place is actually open and has space. Read carefully what it says online or on google maps, check the pictures and don't spend so much time on walking around aimlessly looking for it.
CLICK HERE to sign up and get your own FREE packing list – Autumn Edition!:
By signing up you will also receive my Single Life Bundle as well as exclusive tips & advice
Happy & safe travels!
Stay safe, stay healthy and stay strong!
Michal B.L.
please share, pin and spread the love 🙂