A Solo Traveller's Guide to Porto
This blog post is a solo traveller's guide to Porto – from why, when and how to travel, to what to do and where to go, and more.
Porto reminds me of so many European cities at once, but at the same time doesn't look like any other city I've ever been to. Whether it's the feel of walking through mediaeval times. Or the layed back, chill people. The breathtaking views from afar and up-close, roaming through the narrow alleyways. Probably the combination of it all. This special city seems to have it all, and is perfect for solo travellers in every way. Especially if this is your first solo-trip, Port is the perfect destination for you. And this is a solo traveller's guide to Porto that will help you prepare as best you can for it.
In this blog post you will find all the details and info you need to plan your own solo trip to Porto. From A to Z. Even where you can find some toilets along the way. As well as best cafes to sit at, and work from if you're a remote worker. And in general there are some small tid-bits and extra tips woven throughout the post to help you make the most of your own solo-trip to Porto. Or any other solo-trip you decide to go on.
For more solo travelling tips & tricks –> Tips & tricks for travelling alone.
For more on planning your solo trips –> How to Plan Your First Solo Trip.
Why Porto is perfect for solo travellers
The easier question to answer is why not Porto? Because I cannot think of even one reason you should visit this unique city. But if you still need further convincing or reasons to go, here are the top few (other than its breathtaking beauty):
It's safe:
Porto is considered one of the safest cities for everyone in general, and specifically for solo travellers & women.
Easy to get around:
Yes, it may be hilly (and you will have great glutes after), but the perfect way to get around Porto is by walking. You can get almost everywhere on foot, especially if you enjoy walking and moving your body.
Something for everyone:
Whether it's museums, views, boat rides, parks or beautiful architecture… Porto has it all, so no matter what type of travller you are, there's definitely something for you.
The people are chill & friendly:
Everyone is super nice and helpful. No one cares about stigmas & prejudice, so they're open to anyone. And especially if you're alone, no one makes you feel weird about it, or looks at you strangely. Also, everyone speaks English, so it's easy to communicate with them.
How much time you need in Porto
This really depends on how much time you have, or how slow/fast you want to take things. There are also many different variables to take into consideration:
If you're just touring the city

– three full days will probably be enough

If you're working & travelling

– depending on how much you need to work, I think five full days is enough if you work ~4 to 6 hours, maybe 6 if you work more than that.

If you want to take day trips

– whether it's to nearby cities like Braga, or a wine tour to the Douro Valley, you can take one extra day for each (on top of the three).
When to visit Porto
The best time of year to visit Porto is late spring (May/June) or early autumn (September). I travelled in the beginning of May of 2023… And it was THE PERFECT time to come, all around. Of course there were many tourists, but it wasn't mobbed or packed at all. The weather can be a bit all over the place, but it was always the perfect weather for this solo-trip. It was warm, but not too hot. It was breazy, but never too cold. There was even a bit of drizzle, but it was short and light, and there was no pouring rain.
What clothes to pack:
As I mentioned, the weather in May can be hit or miss, so try to pack something that can be worn in any scenario. Like a long sleeve over short – short for if it's hot, and long for if it's cold and in the evenings. Or if you can, pack a bit of both. Either way, it's highly unlikely you'll need something too heavy or too light. But of course, make sure to always check the wether before you travel.
You can get away with either short or long jeans (although I would recommended at least one or two of each). I had only long jeans, and it got hot at times, but not intolerable.
A t-shirt or tank top, with a light jacket for the evening or just in case it gets cold. I brought long sleeves and didn't have to use them, but it's always good to bring at least one just in case.
How to get to the city
I flew into Porto, but you can also take trains or buses from other cities like Braga and Lisbon. The Porto airpot is one of the most accesible airports I've ever been to, you can literally walk out of it by foot. Which is what I did (but I'm also a bit crazy). Because I arrived late I decided to spend the night at a hotel by the airport (Hotel 3k Porto). It was a 15 minute walk from the airport (although you can also take a taxi or a bolt).
There's a train from the airport (Metro do Porto) – line E (purple line), which will take you all the way to Trindade station. It is close to the centre, but from there you can transfer to other lines (A, B, D or F) for other stops in the city centre.
Important notes:
You can buy the tickets at the machines in the stations, just note that not all of them take bills or contactless. So make sure you either have coins, or remember you pin code for you cc. The cost is 2.75€
There's a button on the bottom of the screen to switch to English, and it's fairly simple to use. You basically want to get a Z4 ticket, for a trip to the city centre or back to the airport.
Make sure to validate your ticket before you get on the train (just hold it up against the machine in the station), and every time you change trains.
For the train back to the airport, platform 3 is just for train line E to the airport. However, when I was there, there was a train leaving earlier from platform 1 (even though it doesn't say line E on it). So make sure you check the departures screens.
Where to stay
Well, this really depends on what type of traveller you are and whether or not you feel like sharing a room. If you don't mind bunking, and you're on a budget… Then a hostel is always the way to go. It's also the best way to meet people, and fellow solo travellers. Personally, I wasn't much in the mood for sharing a room this time around, so I opted out of this option.
If you're like me and you want your own space, while still being close to the centre and not breaking you bank… There are many airbnb's that are perfect for you. I love the place I stayed at (and they have a few rooms), it was spacious, comfortable and very close to everything.
What to do alone in Porto
As I mentioned above, there is something for everyone in Porto. Especially if you want to try new things, and do something a bit different. There's also plenty of fun, and cool things to do, to fill your days (although 3-4 days is plenty of time for it all).
Free walking tour
As always, this is the best way to start your solo-trip, and get the lay of the land, to help you plan the rest of your stay. It's also a great way to get to know more people and maybe even meet some new friends, or just fellow travellers to hang out with. If possible, you should go on your first day, and even best if it's a mid-week day, as it's more likely to be a smaller group.
There are so many companies that do free walking tours, and I was so overwhelmed at first. I just went with the one that had the highest rating and best comments. At first, I was considering taking a few tours so I could recommend the best ones of them all – but really there was no point. I basically nailed it on the first try, and I do believe it's the best company. But also, you can't really go wrong, no matter which one you choose.
Especially if you're limited with time, the free tour will take you to all the highlights, landmarks and best places to see. The following are the main places the tours will take you, so keep in mind that I may not mention them in the rest of the post… But they're all certainly worth the visit.
The Palace of Justice.
The former Jewish quarter
Miradouro da Vitória.
Admire the Clérigos Tower.
The twin churches and their tiled murals.
The University
Lello bookstore.
Stroll around the night life area.
Porto's City Hall, main square and the world's most beautiful McDonalds.
The 20,000 blue tiles at São Bento train station.
Porto's Cathedral.
Revolutours – you can check out their different free tours + other tours and options they have. You can also scroll down on their site to the recommendations area, where they have an email you can message and they'll send you a whole bunch of great recs… For markets, restaurants, bars, etc.
Get lost in the alleys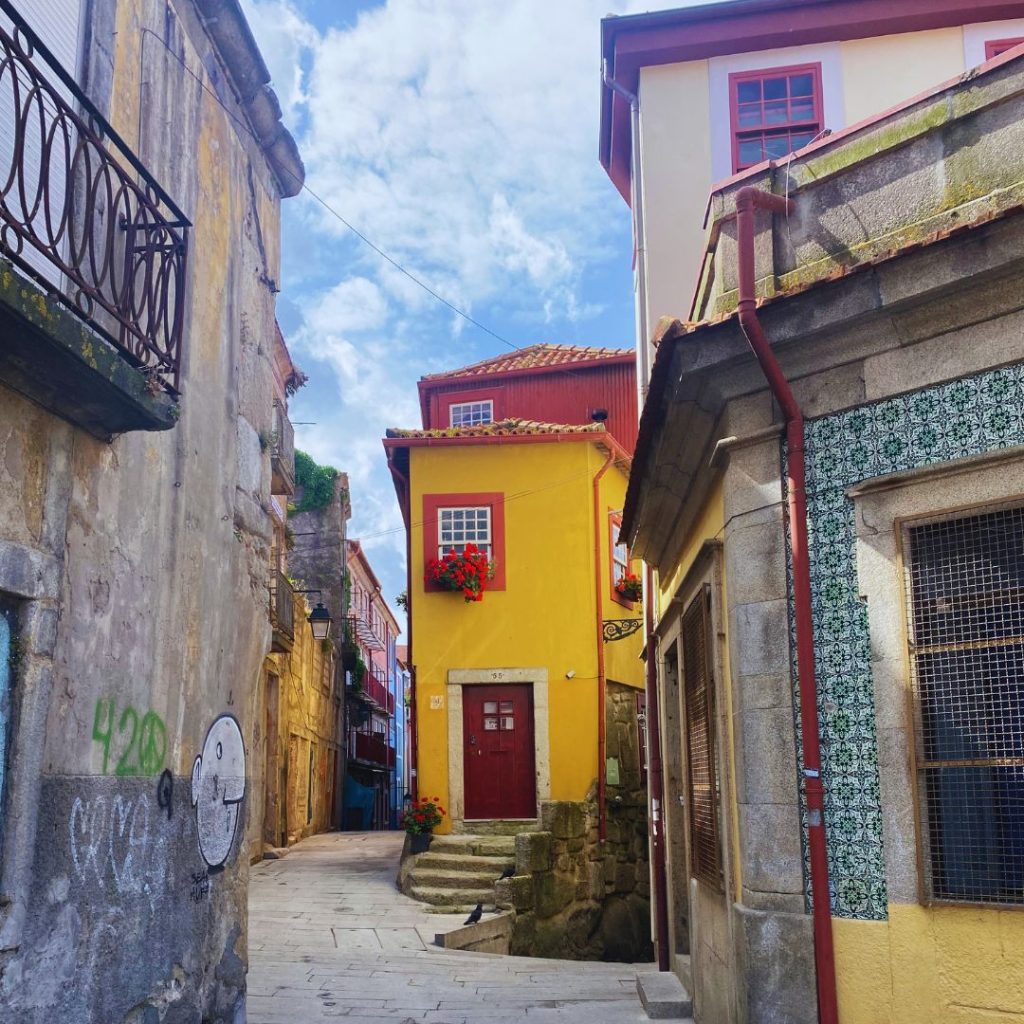 If you're anything like me, you love exploring more than any other attraction while travelling, especially on solo-trips. Porto is the perfect city for this, as it has so many adorable, unique and eclectic alleys to walk and roam through. Let go of your phone and the map, put on some music and just allow yourself to go with no destination in mind. This is the best way to soak up the vibes of this special city, while clearing your mind and letting go.
There are two possible starting points:
Climb the Clérigos Tower
This will cost you 8€, but it's worth every cent. I live for high views, so this was the perfect attraction for me. If you enoy rooftop + 360 views, this will be great for you too. The climb isn't too bad, and you don't have to be in amazing shape to climb the stairs to the top. Note that once you get to the top, there's an additional set of stairs to go to an even higher view, which I almost missed. Before you climb up the tower you can also find some free toilets.
Cais da Ribeira & Luís I Bridge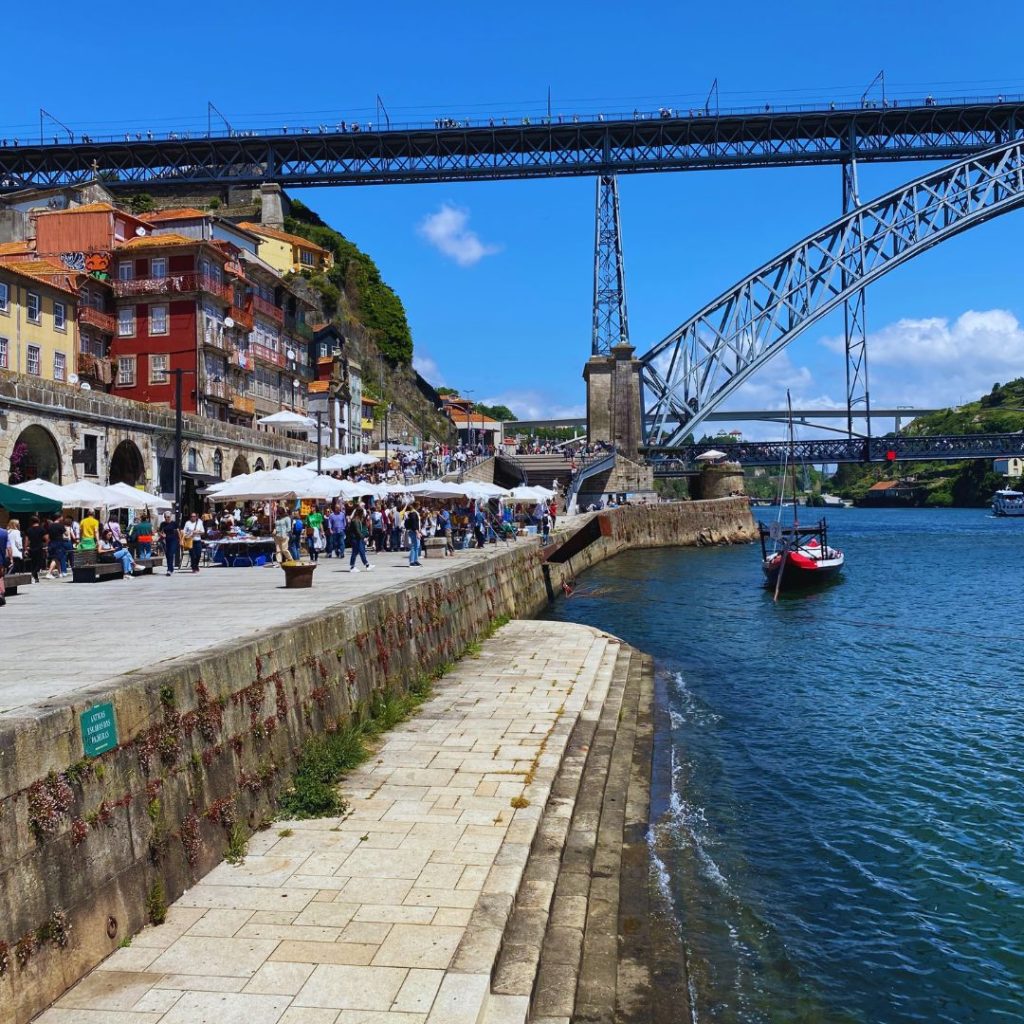 The walk along the river is relaxing and beautiful, and there's even a market with some cool local merch. (At least on the weekend). You get a great view of Gaia and the Luís I Bridge. Once you're done exploring you can walk along the Luís I Bridge on the bottom tier, or you can climb up the stairs to go on the top. Alternatively, you can walk on the top tier from Jardim do Morro. Or from the other side, near the Porto Cathedral
Wine/Port tasting tour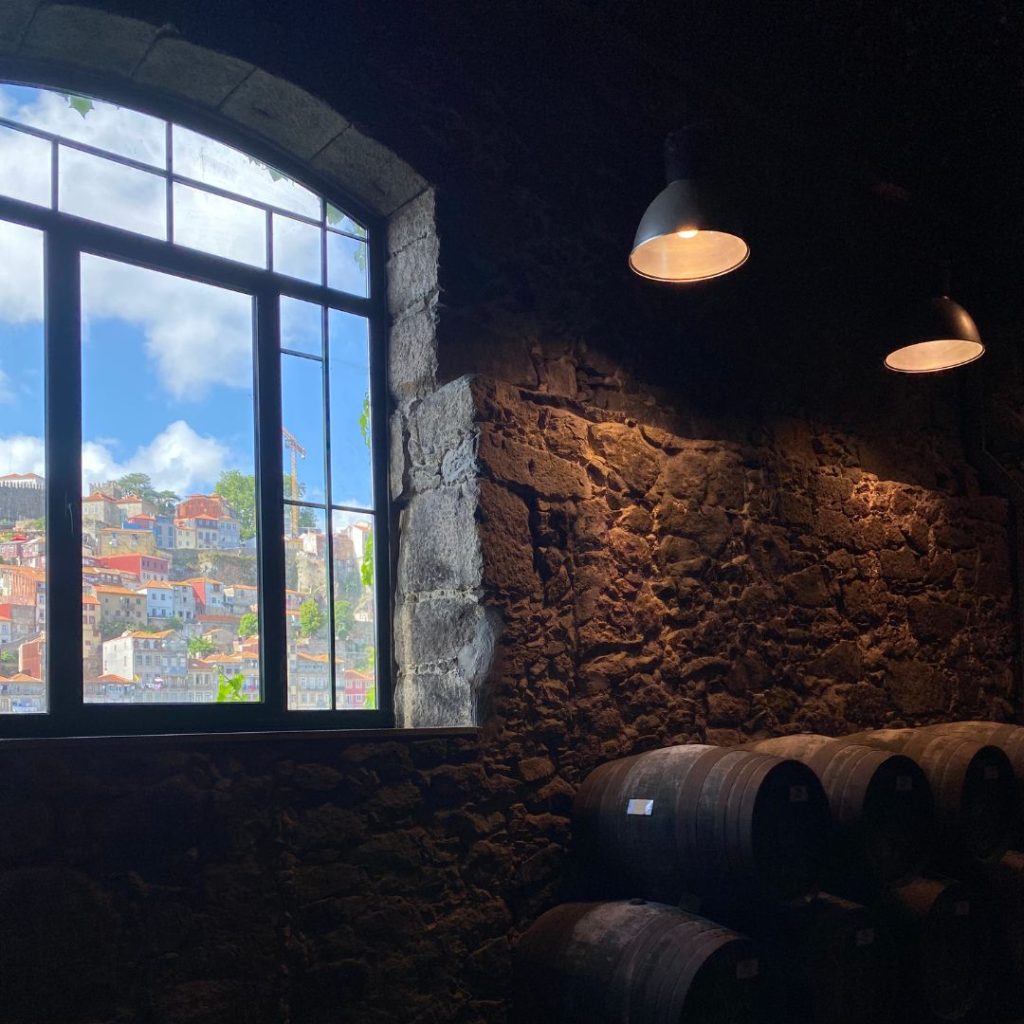 I booked my tour through Revolutours, at the Burmester celler, but I think they're all pretty good from what I've heard. And they all seem to be pretty similar as well. I saw many recommendations to do at least two tours, but I think one is enough, as there is just so much that they can renew between each. (Especially since on large company owns the top five cellars in the city). It's very interesting to hear the explanations on how the Port is made, and it's a cool trip – but a bit overly hyped in my opinion. That said, still worth the experience. And the best part, or course, they have free toilets to use.
Explore Gaia & Jardim do Morro
While you're on this side of the river for your wine/port cellar tour, make sure to take some time to also explore Gaia. You can walk along the river from this side, and even grab a drink as you stare at the breathtaking Porto view. There's also a nice hand-made / souvenir market to explore. As well as the food market Mercado Beira Rio, which is a great place to eat alone. The walk to Jardim do Morro is quite steep, but trust me, the view is certainly worth the climb. (Alternatively you can also take the metro to Jardim do Morro station). Jardim do Morro is also a quaint little park, where you can just chill, listen to music or read a book. If you need, there's also are toilets here, inside the funicular station (at Jardim do Morro).
There are currently only two running tram lines in the city, and they're mainly just for tourist attraction. You can take the 18 line through and across the city centre (or at least as close as can get with the constructions). It stars by the Clérigos Church/Tower. Or you can also take line 1 along the river and back. I took tram line 1 from Infante, all the way to Passeiro Alegre. Then took the 18 back (from the same station) and got off at the Palácio station. You can pay by cash to the driver, eithe 5€ for one way or 7€ for both. They run every 20 minutes or so, and the ride takes about 25 minutes each way.
Farolim da Barra do Douro & Farolim de Felgueiras
If you take tram line1 (or 18) all the way to Passeiro Alegre, make sure you get off for a bit and explore this beautiful area. You can see the North Atlantic Ocean from here, walk along the sea, and up to the lighthouse. (But not actually climb it). t's a beautiful and relaxing walk, and I recommend taking your time to enjoy the breeze, view and moment. In the park, about mid-way (near the road towards the ocean) there's a toilet if need, and ot costs 0.20€.
Jardins do Palácio de Cristal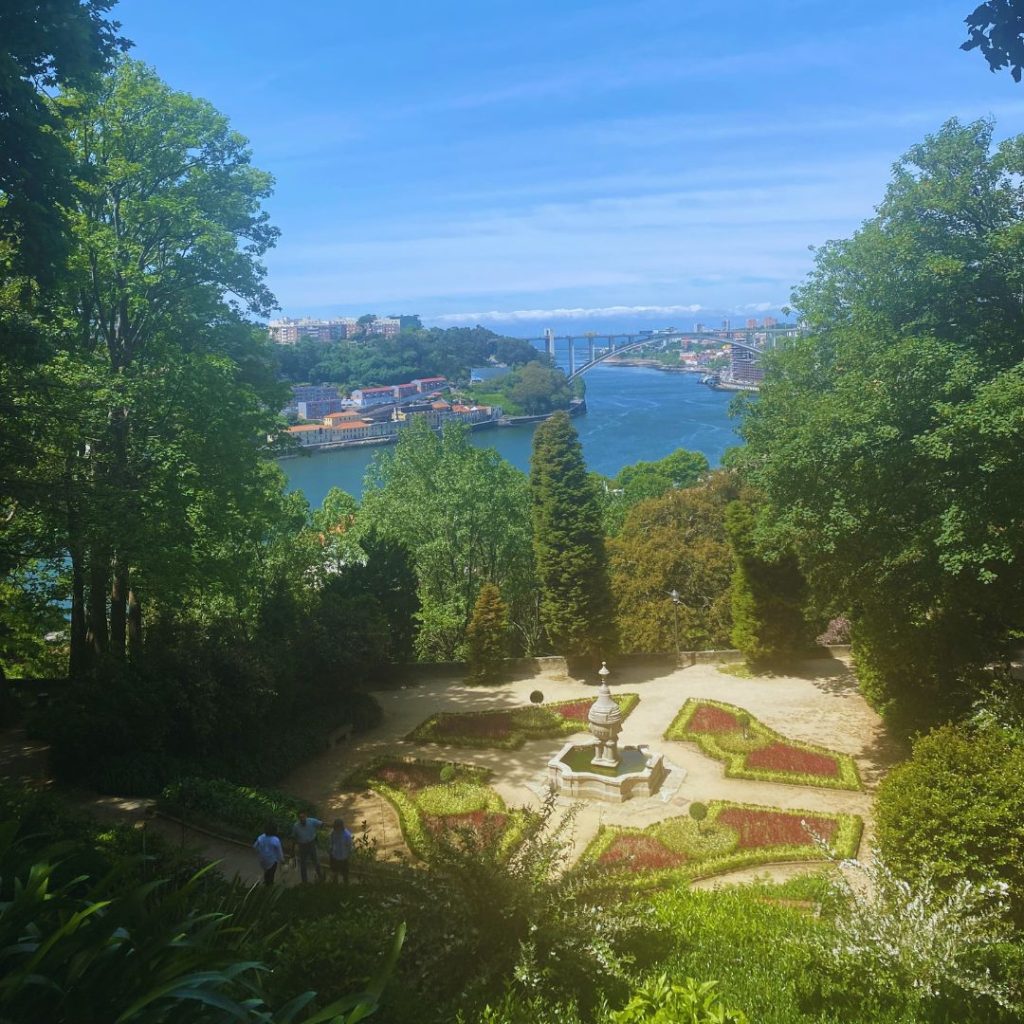 If you decided to ride the the18 tram line back, you can get off at the Palácio station and walk 8-9 minutes to this park. Or you can circle back to it by foot or bus. This is a nice, big park and you can either just explore it for a bit… Or also hang out for a while, even have a small picnic. There are some peacocks and roosters hanging out at this park, so that's also very cool.
From different points at the park, you can also find some breathtaking views towards the ocean and Duoro river. Here as well you have some toilets right by the stairs leading to the Arena. You can enter the park through the main entrance, or if the 'side entrance' happens to be open, you can go through there as well… (On R. Jorge de Viterbo Ferreira st. as you walk up from the Palácio Tram station to the entrance). Then walk up and exist through the main gates like I did.
Mercado do Bolhão
If you love markets, like me, this is also the perfect place for you to visit. You can spend ten minutes just exploring it, or you can spend an hour shopping and tasting as well. Or even just taking it all in and doing some people watching. Whether it's small knick-knacks, fuit & veg, yummy cheeses, sweets or a fresh juice. There's something for everyone in this market. Also, you have free toilets on the market level on each side, by the stairs.
Enjoy a local Port & Tonic
This is basically the Portuguese version of a Gin & Tonic, and it's a pretty darn good one. I'm sure you can get some great ones in many different bars and restaurant… But the BEST one ever is at the Bialounge (recommended by the free-tour guide). Also, make sure it's made with a white port, as the guide from the Port celler said it's not supposed to be made with the Ruby or Tawny ones.
Other great places to see / explore
Igreja Paroquial de Santo Ildefonso
Praça da Batalha + hand-made market (Fri+Sat)
R. de Santa Catarina
Capela das Almas
Porto Cathedral
Rua de Trás
Cafés to work/write/study from
If you're a remote-worker like me, and need to get some work done during your solo-trip… Or if you just want a nice cafe to study, write or read from… Here are the top ones that I found.
Combi coffee
The coffee is good, the service is great and they even have some outlets. It's small and busy, but certainly worth it and a great space to work from for an hour or two. Oh, and you have to try the avocado toast, it's yummy!
Negra café
Probably the best coffee of all the cafes I've been to, they have really good prices and it's a very cool place. It's also quite big and spacious. At first the waitresstld me I can't sit with my laptop (something to do with it being the weekend). But I insisted, she asked the manager who said it's no problem at all. I also went at 9am, so it was fairly empty.
Esquires coffee
The coffee is great, and the prices are good. It's also very close to the city centre (although almost any place is close to anywhere in Porto). It's cute and cozy, and even has some plugs along the couch seatings. There's not a tun of space, but it's enough and no one pulled faces.
Fábrica coffee roasters
This one is quite a bit more spacious, and still very cosy, although not 100% comfortable seating. They have some great cold brew coffee, for very good prices. The service is also very kind and welcoming.
7g Roaster Apartments & Restaurant
Personally the coffee was too sour for me, but the place it'self is the perfect place to sit. At the back, there's also a nice secluded table with access to a socket. The 7g burger was delicious, and they also have so many other food options for any time a day. And the prices aren't the cheapest, but also not too expensive.
At the Porto airport
Security check was fairly quick, and the line moves pretty fast. I was done within 10-15 minutes or so. You can't take liquids over 100ml in your hand luggage, but they didn't make me take out the ones I had under 100ml. Or put them separately.
Once you've passed security, there's a free refill water fountain right after on the left.
Alternatively, you can get a bottle of water from the machine for 1€.
I would say you don't really need to get there more than 1.5-2 hours before your flight… But I like to get there 2.5 hours before, just in case.
Extra tips & tricks for solo travel in Porto
Cash

– Bring cash, or withdraw some while you're there… As many places only take cash (especially street vendors and the local market stalls). Some places can only charge a cc from 5€ and up. Keep in mind that ATM's charge a fee of about 3.95€.

Budget

– I spent about 40€ a day (on average, 318 in total), without splurging or doing shopping. (I just bought two drawings and a ring). This includes three days of travel. Not including the three days I spent at airports… I spent 52€ a day, for five days (260€ in total). This is not including flights and boarding.

Shoes

– As I mentioned above, it's very hilly and there are lots of stairs. So make sure to bring comfortable walking shoes. There's are many cobblestone streets, so it may be tricky to walk with sandals or flip-flops.

Water

– The tap water is safe to drink, and I personally didn't mind it. You can even chill it in the fridge to make it taste better. It's a great way to save a few bucks.

Public Toilets

– Other than the toilets I already mentioned in the post… There are a couple that I found for a fee of either 0.20 or 0.50 cents. You can also just search the word 'toilet' in google maps, and it will show you more.
WC público da Batalha / Guindais
R. de Mouzinho da Silveira WC

Drinking Port

– In general it's never a good idea to over-drink and get drunk when you're solo travelling… But you should be extra cautious while drinking Port, as it's much stronger than regular wine.
For more solo travelling tips & tricks –> Tips & tricks for travelling alone.
For more on planning your solo trips –> How to Plan Your First Solo Trip.
SIGN UP

for my mailing list to receive 10% off the digital download version of the 30 Day Challenge for Embracing Singlehood, as well as an Embracing Singlehood Bundle, which includes: an Anxiety Relief Bundle, a Self-Care Bundle, a Goal Setting Tracker and a Self-Reflection Journal. You'll also receive exclusive pro tips with every single blog post published!
Stay safe, stay healthy and stay strong!
Michal B.L.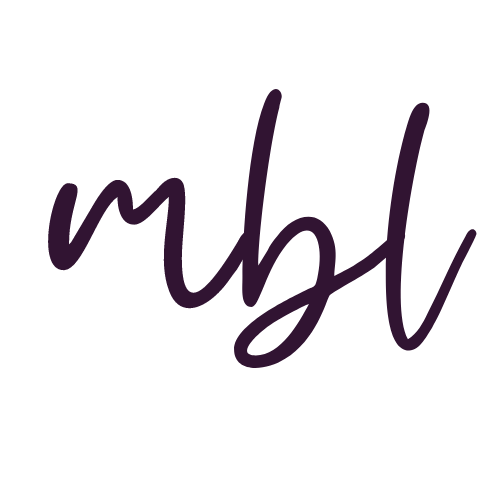 please share, pin and spread the love 🙂