Top 4 Cafes in Salzburg to Work From
Best cafes for solo travelers.
These are the top 4 cafes in Salzburg to work from or just sit and write or read, when you're traveling and working remotely.
I will admit that Salzburg is not the best city for remote workers, as it was a struggle to find a cafe to work from. If you don't mind sitting in the same few places everyday, then it won't be much of a problem. But as I wanted to try different places, I found it hard to find more than a handful to try out. The few I did find, however, were very perfect and cozy, all with great vibes. And I enjoyed spending time and working in all of them. If you don't need wifi or to work, then there are also a few suggestions at the end of really nice places to go. Also, Salzburg is so picture perfect, and is one of the most beautiful cities I've visited. So it's really inspiring for all of you writers out there.
Café Fingerlos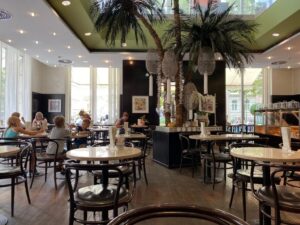 This cafe isn't in my top favourites, and if you don't have much time, or just prefer to focus on one or two places… You can skip this one with a quiet mind. However, if you do have the time and do want to try different places, this is definitely a great option. Especially if you can't decide where to go and just need a place to sit and work for a few hours, without feeling bad.
When to go

– They're open from 7:30 to 19:30, so you can go any time of day you want, and stay for hours, which is perfect. Especially since not many cafes in Europe open that early. I went in the afternoon and it was really nice and quiet.

Space

– It's really big with many different places to sit, including nice and xoy couches. Meaning, it's spacious enough that you're very likely to find a place to sit at any time. And you're not likely to feel bad for taking up space for a long time. 

Menu

– There's quite a large menu, although I only had a nice slice of cake and coffee. The prices are fair, and you are sure to find something of your liking.

Coffee

– The coffee is really nice, good size and average prices. 

Location

– The cafe is in a really nice area, and very easy to get to. It's definitely within walking distance from almost everywhere, and there are some nice streets to explore around it.

Comfort level

– Quite comfortable. It's not too noisy, there's some comfortable seating and a great atmosphere. I felt very comfortable to take a table up all alone for a few hours, and didn't feel out of place. 

Wifi

– Standard.

Outlets

– None that I could find, so it's best to come with a fully charged laptop.
220° Café Nonntal
This cafe is definitely the BEST cafe in Salzburg, whether you're alone, working or just getting a coffee. If you only have time for one, or only just want one cafe to go to, look no further. This is the perfect cafe to have coffee, breakfast and sit and work for hours. 
When to go

– They're open Tue-Sat from 9 am to 6 pm, so any time between that is great. Although I went in the morning and it was perfect, and probably the best time (especially for their breakfast). Saturday is quite packed and limited in space, so I would refrain from going on that day. 

Space

– Not the biggest, but they have quite a lot of space, including on the bar and outside. It has such an amazing vibe, and is just the perfect place to sit and enjoy, and get inspired. 

Menu

– Personally, I just tried their breakfast, which was absolutely delicious and highly recommended. The prices aren't cheap, but also not much above the average. 

Coffee

– AMAZING coffee! So good, I bought a bag of their coffee, even though I was very limited with space. It was definitely worth it, and I highly recommend getting yourself a bag of their house blend as well. 

Location

– A bit off track, and you may need to hop on a bus to get there (at least one way, like I did. I enjoyed the walk back along the river). But it is so worth it!

Comfort level

– It's not the place I felt most comfortable in, because there weren't many (if at all) other solo diners or people with laptops. Maybe more so on the bar, but it's less comfortable. They were very kind, but because they're so popular, there's always more and more people coming in. So while I would like to, I would go there every day or spend all day there.

Wifi

– Good.

Outlets

– A few, but not many.
Afro Cafe
If you have time for a second cafe (after 220°), this cafe should definitely be the second on your list. Afro cafe is just perfect for remote workers and writers all around – the atmosphere and vibes are amazing, it's super cozy and the coffee is amazing. 
When to go

– They open most days from 9 am to 7 pm, so you can go any time you want. They're very popular, and very central, but they always seem to have space.

Space

– It is quite spacious, and has many seating options, including cozy couches. I wouldn't recommend sitting outside, as it's much more packed and noisier, and it's never easy to sit outside with a laptop. The whole space is really amazing and has great vibes, and I felt so inspired and good there.

Menu

– They have a large menu, but I just had a coffee and really good iced tea, for reasonable prices. But it is a great place to also grab a snack or meal.

Coffee

– The coffee is small, but really good, and I highly recommended it, it's also fairly priced. 

Location

– Amazing location! Almost at the heart of the old city, and within walking distance from everywhere. It's also very close to bus stops. As it's close to everything, it's definitely one of the best areas to just explore. It's also within walking distance from the Modern Art Museum.

Comfort level

– Oh so very cozy and comfortable, I love sitting here and could do so for hours. And no one gives you the stink eye for doing so, and there are also many other solo diners and people sitting with laptops. And as I've mentioned above, the atmosphere is really great.

Wifi

– Good. 

Outlets

– No sockets that I could find, so again, you should come with a fully charged laptop.
Coffee Press
I happened to come across this cafe by chance, while roaming around the streets and trying to find a new place to sit. It was pretty much empty when I was there, which is usually a turn off. But it looked so adorable and nice, that I just couldn't resist. And I certainly wasn't disappointed. In fact, I was actually quite pleased. 
When to go

– Any time of day is great, I went in the late afternoon and it was nice and quiet.
Space – It's quite spacious, but there aren't many places to sit, although when I went it was empty, so it wasn't a problem.

Menu

– They have a limited menu from what I could tell, mainly cakes and such.

Coffee

– Great coffee, fairly priced, but also quite small. 

Location

– Great location, not far from the river, surrounded by some beautiful streets to explore. It's also walking distance from almost anywhere in the city center and old city.

Comfort level

– Not the coziest, because the seats themself aren't the best, but I could potentially sit here for hours. No one bothers you or looks at you weird for sitting alone. 

Wifi

– Good. 

Outlets

– There were a few tables with sockets. 
Others
These cafe's don't have wifi, but they are so cozy and adorable, and are great places to just sit and write or read a book. Sip a nice cup of coffee, chat with a new friend, or anything else your heart desires. 
Kaffee-Alchemie
CUP&CINO
Cafe Saran
Cafe Tomaselli Kiosk
Sign up below or 

CLICK HERE to sign up and get your own FREE packing list – Autumn Edition!:
By signing up you will also receive my monthly Single Life Lessons Newsletter and an Anxiety Relief Bundle, a Self-Care Bundle and a Self-Reflection Journal.
Happy & safe travels!
Stay safe, stay healthy and stay strong!
Michal B.L.
please share, pin and spread the love 🙂