Thank You for Your Purchase!
I really appreciate your support and hope this ebook helps you through your struggles, and start to thrive! Don't hesitate to reach out to me for extra support or any questions you may have.
If you haven't already, please also consider joining my community, by signing up to my mailing list you will now receive:
** Please check your spam and make sure to whitelist my e-mail address to prevent the emails from going to spam in the future.​​​​​​
Follow the links below to start your journey of embracing yourself & your singleness, as well as developing and maintaining a strong, healthy relationship with yourself.
---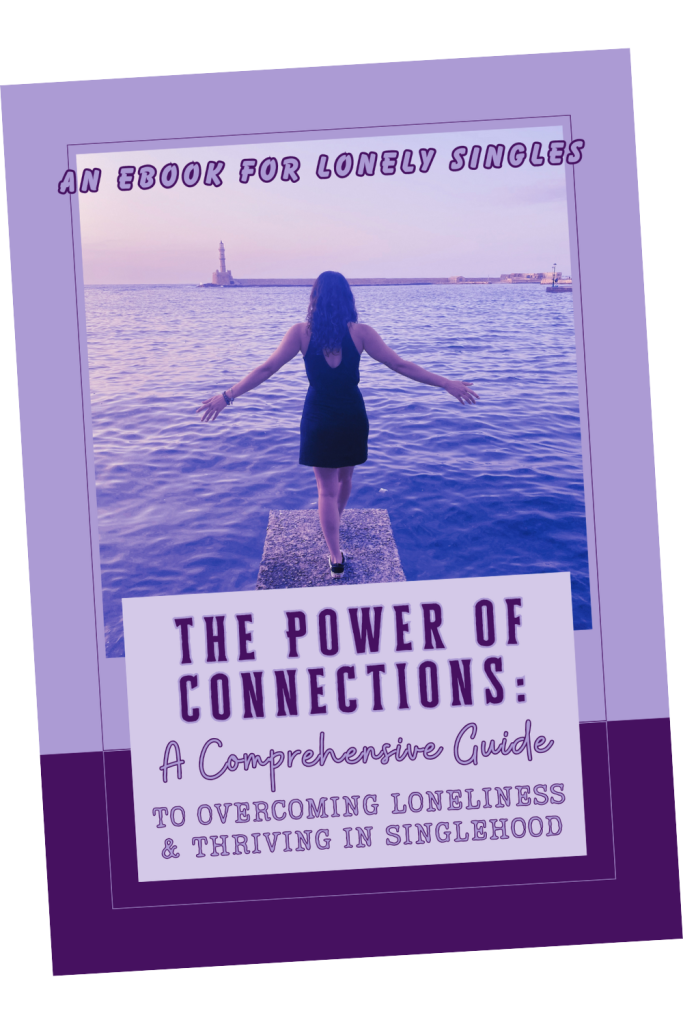 Are you ready to stop blaming your single status for your loneliness & misery?

Do you want to start thriving in your solitude, instead of feeling lonely & wallowing over it?

The Power of Connections for battling loneliness is the push you need to stop chasing relationships and avoiding yourself, and instead, start creating meaningful connections. This ebook will provide you with the tools you need to start developing & maintaining a healthy connection with yourself, connections with others & with the world around you.

This 49-page ebook shares the three types of connections you need to create in your single life to help you overcome loneliness and thrive in your singlehood, the twelve methods to develop and maintain them, and ten ways to achieve each one of these methods (120 in total).
So, if you want to STOP being lonely and isolated & START thriving in your singlehood and creating meaningful connections, this ebook is exactly what you need.
---
Are you ready to start embracing your singlehood and making the most of it?

Do you want to start taking advantage of your singleness, instead of wallowing over it?

This 30 day challenge for embracing singlehood is the push you need to start loving single life, it will provide you with the tools you need to start living your singleness to the fullest. This challenge is a step-by-step guide of sorts, which will get you out of your comfort zone, "force" you to be proactive and start taking action.

This is a 5-week challenge with 30 days + 5 bonus days – Each week is subject to a specific theme, and every day of the week is subject to a sub-theme. These themes are also crucial pillars of learning how to embrace yourself and your singleness. Each week and its theme is also a goal of sorts, and every day of that week is a step towards achieving that goal.
So, if you want to STOP feeling miserable alone & START feeling stronger and more empowered & independent on your own, this challenge is perfect for you!
---
START HERE – My Top Blog Posts: