Top Things to Do Alone in Salzburg
Traveling alone in Salzburg – These are the top 7 things to alone in Salzburg, for solo travelers.
If you haven't been or planned to go to Salzburg, now would be the time to do so. I wasn't sure if I would make it or not, but now I'm so glad that I did. It's such a perfect place to travel alone. Especially if this is your first solo trip. It's small, cosy and beautiful. While Vienna was absolutely incredible, it can also be a bit intimidating, as it's so grand and big. Salzburg is the perfect size, and there are so many things to do, even if you're on a budget. Even just being in this gorgeous city will help you forget all about your lonesome.
I've been on quite a few free city tours around Europe, and this one has definitely been my favourite. To be fair, it could be a matter of luck… Which guide you get and the people on it. Perhaps if I went the day before or after, it would have been different. But It's also just something about the city of Salzburg, which is so great to explore. The free city tour is a great solo activity in any city… And in Salzburg especially.
The Modern Art Museum
Whether you're a fan of art or not, this is a great activity for solo travellers. While the exhibition was absolutely amazing, and nothing like anything I've ever seen… The whole vicinity of the museum is breathtaking. There is a "hidden" entrance on Gstattengasse 13, where you can take an elevator up to the top of the hill. After you go through the exhibition, you can go outside (through the restaurant) and explore the different grounds. There's a beautiful walk with an incredible view of the city.
Salzburg Zoo 
I absolutely love animals, and seeing them always makes me happy and I forget the awkwardness of being alone. I know it can be quite weird to go to the zoo alone, especially since it's a very popular family activity. But this is also a great way to learn how to not give a f*ck, and just enjoy your own company. Personally I think that it's the perfect solo date, all around. The Salzburg zoo is so beautiful and just fun to explore, even if you're not the biggest zoo fan. I also love that the animals are not in cages like most zoos, but more in an enclosed area out in nature. So grab yourself a nice snack or lunch, explore the grounds and have a nice picnic. And shut everyone and everything else out.
Explore the old city
Once you've done the free city tour, and know how to get around more or less, it's time to explore it on your own. Make sure to get some tips from the tour guide on the best places and times to go. But even just walking around this gorgeous city is a great way to spend some quality time with yourself. No matter what you do. Personally I also like to just get lost, and with all the small alleyways, this is the perfect place for it. But you can also have fun navigating yourself around with a map… And explore the highlights on it.
Fortress Hohensalzburg
This activity comes in a few different forms, and you can choose the best one for you. Or even all. You can pay for the entrance to the fortress and explore it during the day. I didn't do this, but I explored the grounds a bit, and even so, there's so much to see. Especially if you're a fan of castles and fortresses. I went at sunset, and it was a wonderful experience. There were so many beautiful colours, paired with the incredible view, made for a once in a lifetime experience. If you go after the fortress closes (check the site, depending on the season)… You can get a reduced ticket for the funicular. Either both ways, or, like me, one way up, and then walk down through the footpath. Either way, it's an amazing solo activity.
Salzburger Schranne – Schrannenmarkt Salzburg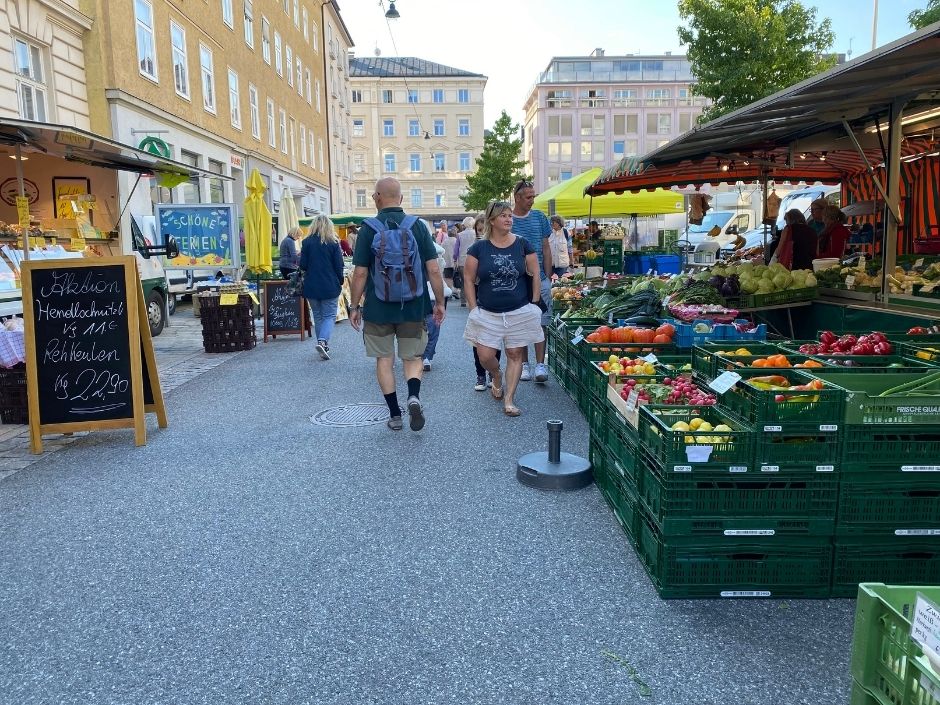 This is one of the best markets I've ever been to. And if I hadn't gone on the free city tour, I wouldn't have even heard of it. If you can, make sure to visit Salzburg on Thursday so you don't miss this wonderful gem. Every Thursday between the hours of 05:00 – 13:00 there is a local farmers market, where you can buy almost anything and everything. I bought myself some cheeses, olives, bread, artichoke and fruits… Then I took a bus to the lake (see below) for a wonderful picnic. Even without the lake, it's such a colourful and wonderful market to explore on your own.
Leopoldskroner Weiher
Whether you're able to go to the Schrannenmarkt or not, this is a wonderful place to explore with yourself. If you can't go to the market, even just some treats from a cafe or supermarket will do. You can explore the beautiful lake and have a nice picnic on one of the benches nearby. It's quiet and lowkey, and a great way to help you learn how to be comfortable in your own presence. Especially if you struggle with silence and quiet time with yourself.
Happy & safe travels!
Stay safe, stay healthy and stay strong!
Michal B.L.
CLICK HERE or sign up below and get your own FREE packing list – Autumn Edition!
By signing up you will also receive an Anxiety Relief Bundle, a Self-Care Bundle and a Self-Reflection Journal.
please share, pin and spread the love 🙂