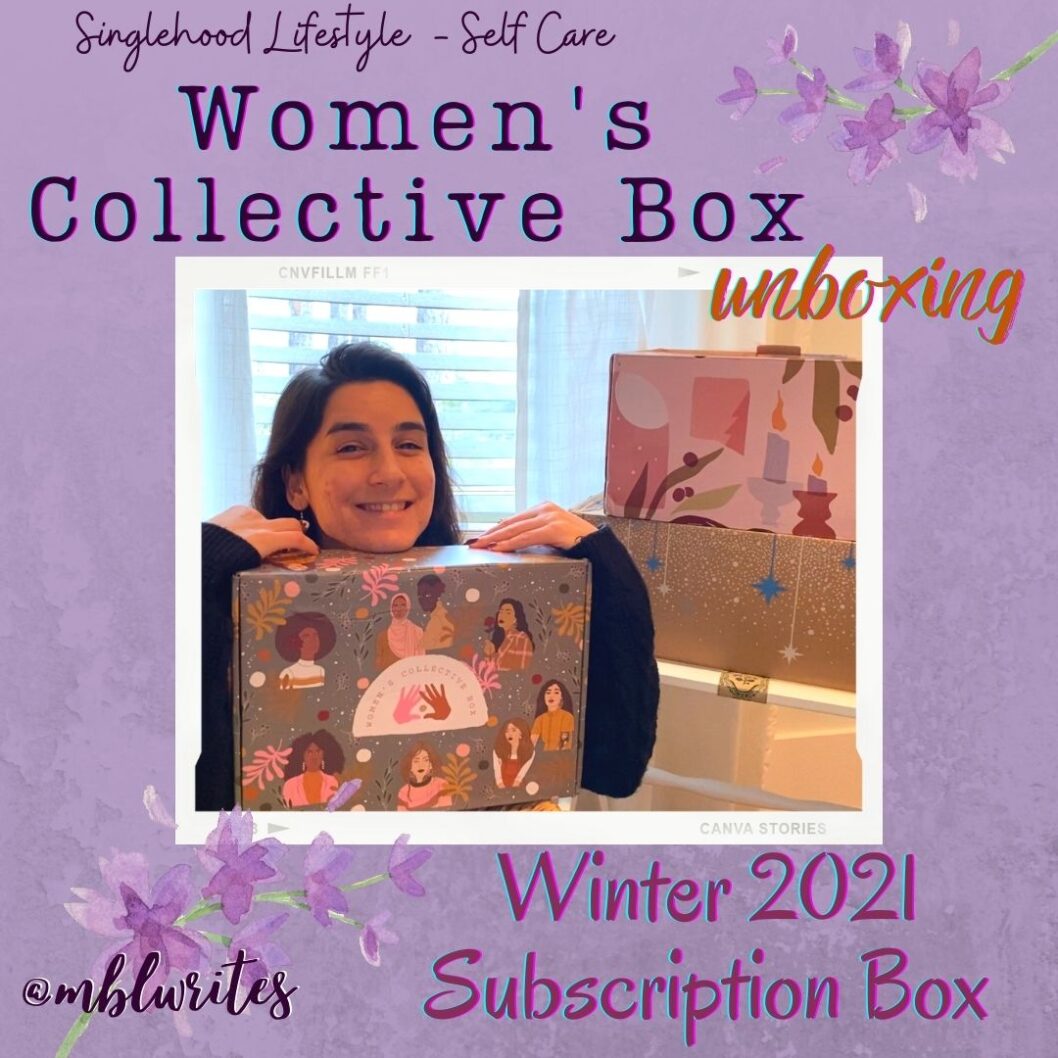 Women's Collective Box Unboxing Winter 2021
Unboxing the Women's Collective Box Winter 2021 subscription. Full review and closeup pictures of all the products in the box.
Recently I traveled to the US and decided to take advantage of it for ordering subscription boxes that don't ship to Israel. One of them was the Women's collective box, which I've been super excited about because I love the concept behind it. The box is curated by women, for other women, with products from businesses built and run by women. I absolutely love that they work to create an amazing sisterhood community. It's so important for women to support one another.
Being single and writing about singlehood, I find that the way Women's Collective brand themselves is perfect for women on a journey to being single and happy. They provide support with creating a community and a marketplace where women can shop for special products to boost their lives and confidence. Also, they inspire women around the world to have a strong, empowered career, and to be business women.
I was extremely excited about their winter box, however, I was disappointed to discover that there's no pamphlet or card with a description / explanation about the products in the box. It's a shame mainly because they have so much meaning and value behind the box and products, and it would be great to know more. So ever the curious one, and not one to leave unanswered questions… I went out and did the research myself.
They have four boxes a year – one for each season: winter, spring, fall and summer. A quarterly subscription is $54.95 per box. An annual subscription is $199.80 for all for boxes – you pay yearly for the four boxes.
Empowered Women Empower The World Large Tote
This wonderful canvas bag is multipurpose, and will get some great use out of me. It's very high quality and a pretty decent size, with a small zipped pocket inside and a zipper to close it on top. It's 100% cotton canvas, natural colour, 18″ x 15″ flat and professionally screen printed with eco-friendly water-based inks. You can use it for a picnic, for grocery shopping, for the beach, an overnight back, or whatever else you can think of. It also has an important and great message printed on it, one which I will proudly carry around. The quote is definitely inspiring and can also be used as a boosting daily affirmation, and motivation to strive to be an empowered woman, and empower others.
Portofino Pouch – lu & elle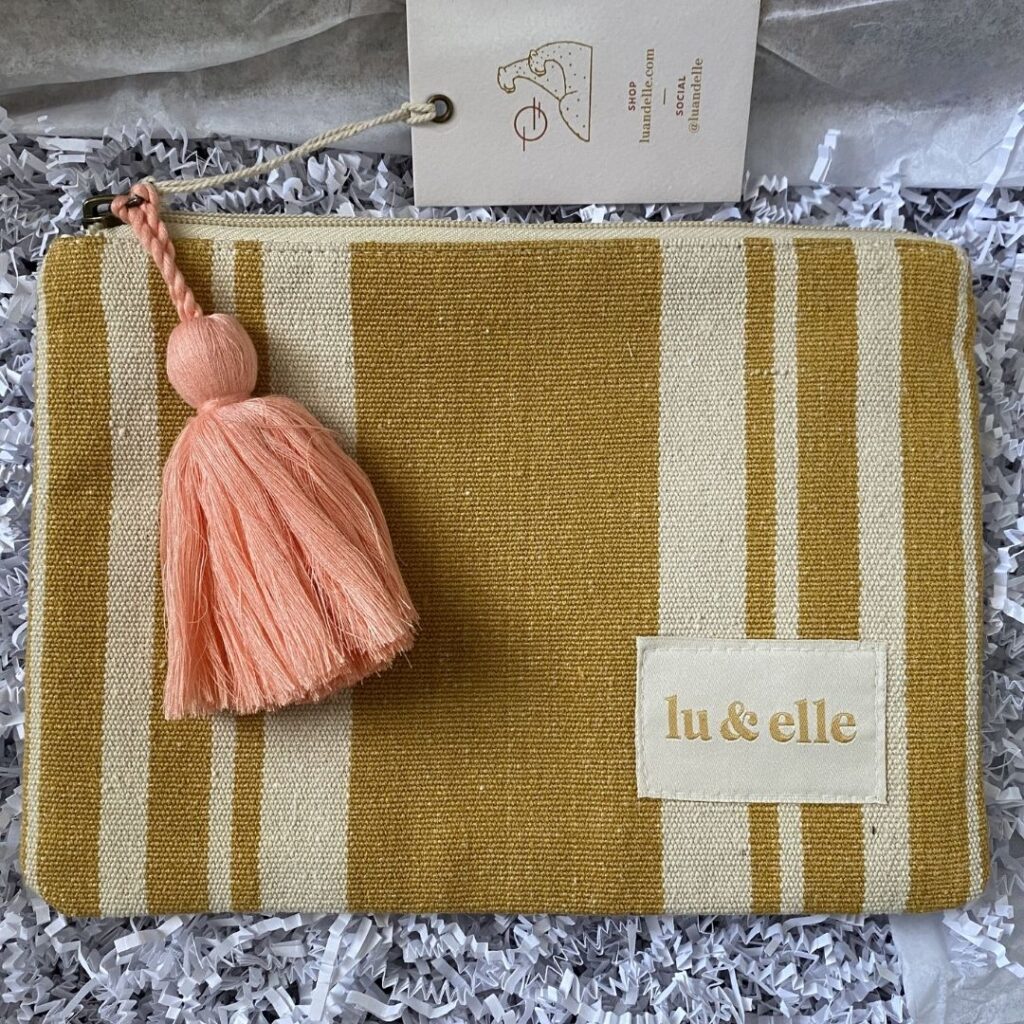 This beautiful pouch is made of Cotton, Acrylic, Lurex has a zip closure, sized at 9.5" x 6.5", and has an adorable pink contrast nylon tassel. It's rustic colours are really nice and unique and not too blunt. The size is really nice too, not too big or too small – just right. Just like the tote bag, it can be used for many different purposes – all you have to do is choose. It can be a wallet of sorts, a make-up bag, pencil case, documents / receipts holder, toiletries bag, first aid – and so much more. You can also add it to your purse / bag and carry it with you when you go out.
Mini X Necklace – Grace and Flux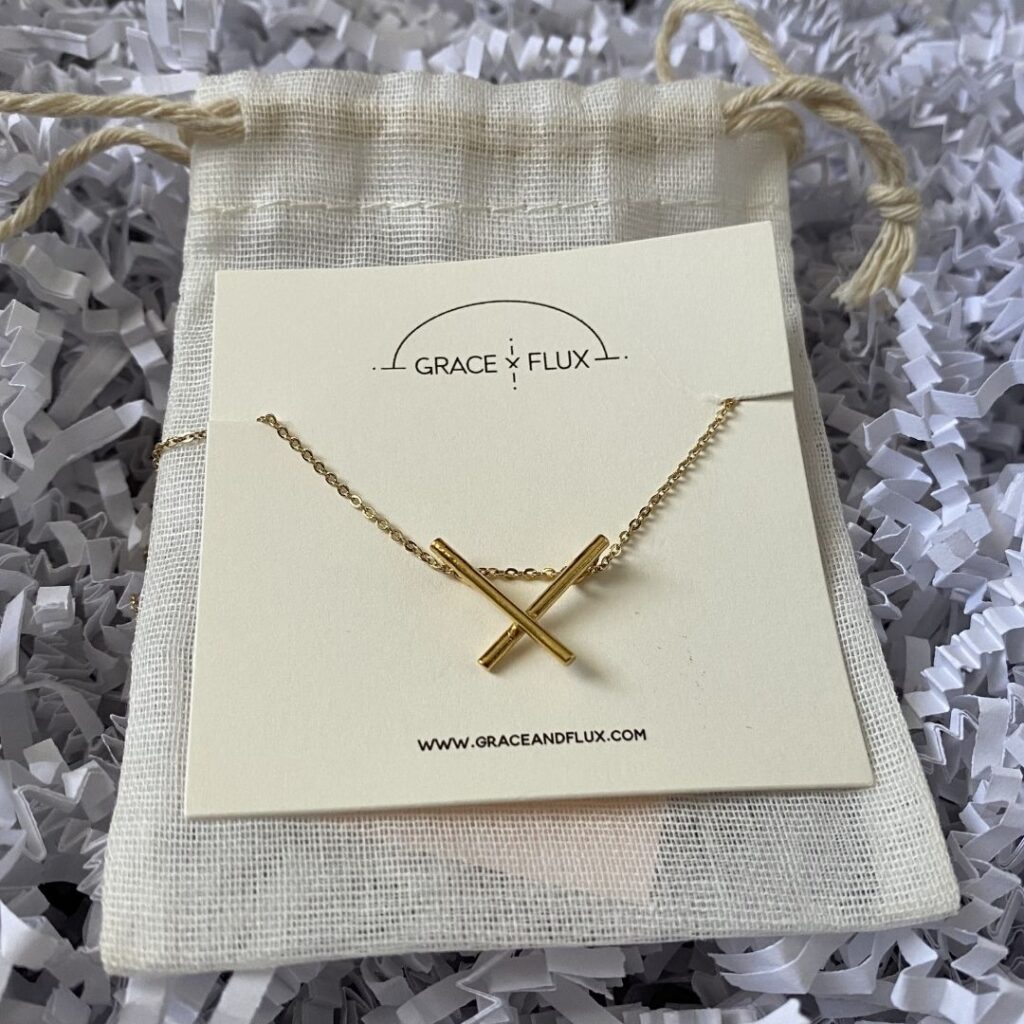 The "deal closer" for me buying this box, was definitely this necklace. I was contemplating on whether or not I should order it or not, and when I saw this necklace – I just knew. Of course, I was excited about everything, but this gorgeous 24K Gold dipped X necklace, is definitely my favourite. On the Grace and Flux website you can purchase it in either gold or silver, and is available in 16", 18" or 20". It's very elegant, simple and subtle – just like I like it. You can wear it up or down in my opinion, and it will suit and match with almost anything. And the best part – it will make you feel pretty and good – and that's so great to boost your confidence.
Tamara Brown Sugar + Coconut Lip Scrub – Becalia Botanicals
I've never actually used a sugar scrub before, so perhaps I'm a bit naive and maybe even quite clueless… But I'm hoping that it will help me puff up my lips a bit, because they are quite thin. This sugar scrub smells (and tastes) like brown sugar, but not so much of coconut. Which is a bit surprising because I'm used to coconut being overpowering. It's a really nice scrub, with some great ingredients like Shea Butter, Macadamia Nut Oil, Vitamin E and more. It's simple and easy to use and leaves the lips feeling a bit raw, and hopefully I'll be able to see the difference with time.
Rebe Hibiscus Mint + Agave Lip Balm – Becalia Botanicals
This lovely lip balm is a great product to have and is definitely useful after the sugar scrub, which leaves your lips a bit raw. It will definitely help soothe and calm your lips, and is also so soft and smells wonderful. Just like the lip scrub, this lip balm also has some wonderful ingredients like: Coconut Oil, Shea Butter, Kokum Butter, Sweet Almond Oil Candelila Wax and more. My lips were quite dry and it really helped to soothe it, and did so quite quickly. The only thing I don't like is that you need to apply it with the finger, especially with the pandemic, you really have to be careful.
Tulip Vessel (3″) – teal green – Concrete Days
Like a few other products from this box, also this beautiful concrete plant pot has many different uses. Personally I really wanted to use it like one of those cozy hug mugs… And I actually did try to drink coffee out of it, and I don't recommend doing so. It has a weird aftertaste and can also leave marks, so it's better to use it for something else. Like to store jewelry, pens, coins, tampons or any other knick knacks. You can also actually use it as a plant pot if you'd like. Whatever you choose, you can be sure that it will look great. Its simplistic and so aesthetically pleasing.
Warm + Cozy Soy Wax Candle – Shopbsby
Candles on their site value at $12 – $15
Made exclusively for the Women's Collective Box, this warm and cozy candle is absolutely divine. The scent is warm vanilla sugar and chai, which is super unique. Normally I don't really go for vanilla scented products, but this one is blended so well and creates a whole new amazing and unique scent, that I absolutely love it.
The total value of all the products in the box is approximately $175, which is amazing. The Women's Collective Box is a bit more expensive than the average subscription box, but you also get more value accordingly. It's also so unique and special, and definitely worth it if you ask me. If they shipped to Israel I would definitely get the annual subscription, but unfortunately they don't. I have seen that when you order it as a gift, there is an option to ship it worldwide. You can get a single box for $59.95 but when I tried to order it to Israel, it didn't work.
You can also shop some amazing products in their marketplace, where you can also order a special mystery box curated from the products from the marketplace – the amount of products vary, depending on the value you purchase it for.
Overall, I'm very pleased with the box, and I definitely love what they stand for and strive to achieve. If I could I would definitely get the annual subscription… I'm really bummed that I cannot.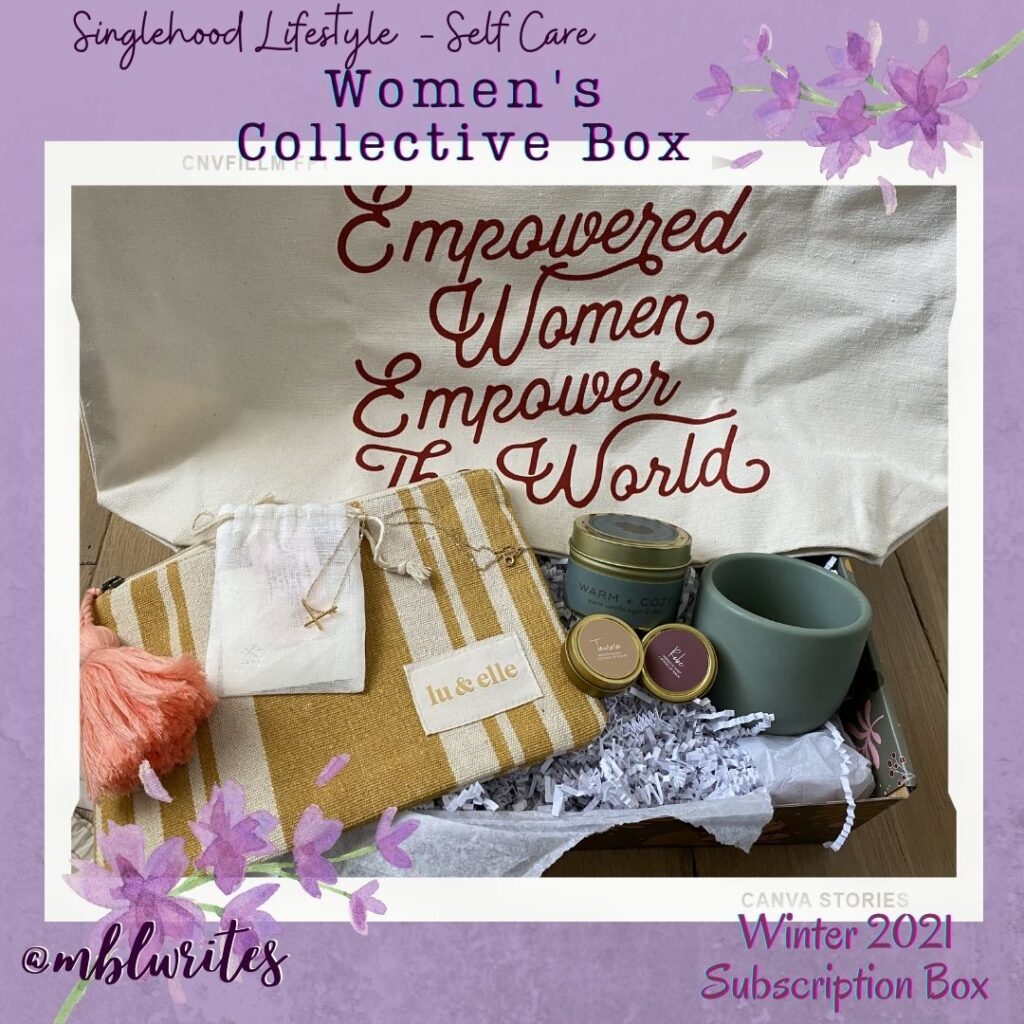 Get your own subscription – https://www.womenscollectivebox.com/
Winter 2021 – Women's Collective Subscription Box Unboxing Video

** You can also check it out on IGTV or on YouTube
Please share and pin and spread the love 🙂