TONYMOLY October Subscription Box Unboxing
{This post may contain affiliate links, which means I make a small commission at NO extra cost to you. See my disclosure for more details.}
---
An integral part of embracing yourself and singlehood, of developing a meaningful and significant relationship with yourself, is by maintaining that relationship. One of the best ways, in my opinion, to maintain the relationship you have with yourself is with self care. Whether it be your lifestyle choices, health, physical fitness, pampering,

self dating

, etc
Just like any other relationship – With a significant other, friends or family members… You have to make efforts to make it work. To uphold that connection, and constantly grow closer. Just like every other relationship, where you go on dates, buy small gifts, surprise each other, etc. You need to do the same in the relationship you have with yourself. A great way to do that is with subscription boxes, particularly the self care one's.
In this post I will be sharing with you my own subscription box unboxing and review. I ordered for myself the TONYMOLY October box. It's the first ever subscription box I've ordered, and I must say it truly is fun and surprising. And especially TONYMOLY, with their unique and adorable packaging. I have been using the products that came in the box for the past two and a half weeks, and I will be sharing with you the results and my personal opinions.
I ordered the box from the Israeli site of TONYMOLY and it cost me 179 NIS, which is about 53 USD and 44 Euros. In my opinion that is a great price, and it's one of the more affordable subscription boxes – considering the amount of products it contains. TONYMOLY is a South Korean brand that specializes in skin care, and they have unique and inimitable packaging.
** Check out the end of this post for the unboxing video I made 🙂
** Click the titles if you'd like to check the products on Amazon.
Panda Ears Hair Wrap
The first thing it came with, is an adorable hair wrap (meant to hold your hair back when applying product), with panda ears. It was a free gift that came outside the box, and that's always a great and fun thing. It is quite thick and good quality, but also very warm. So if you don't have a fan or AC, and it's not cold in the room, you might sweat quite a bit. Nonetheless, it does the job very well.
These two may have come in separate boxes, but they are such an adorable and great set. For me at least, these are the two products that I have in my bag at all times – the lip balm and the hand cream. Also, the lip balm was actually an extra gift for my first purchase, so that was a great addition.
The lip balm is very soft and lasts for about an hour or so on the lips (I also tend to fidget with my lips). I have been using it every day, at least once or twice, and my lips have not been chapped once. The scent is very subtle, I would say even barely noticeable, which I quite like. It has a small string on it, so you can attach it to your bag or keychain.
The Banana Hand Milk has a much stronger scent, which is very noticeable when you apply the cream. However, it does fade fairly quickly and once the cream seeps into the skin, there is only a soft, sweet scent. While the cream does seep in pretty quickly, the hands do stay a bit sticky for about half an hour later. But the hand milk is very effective and made my hands super soft, and that's always nice.
** to check it out in the UK store – Hand Milk – Lip Balm
Kiss Kiss Lip Balm Essence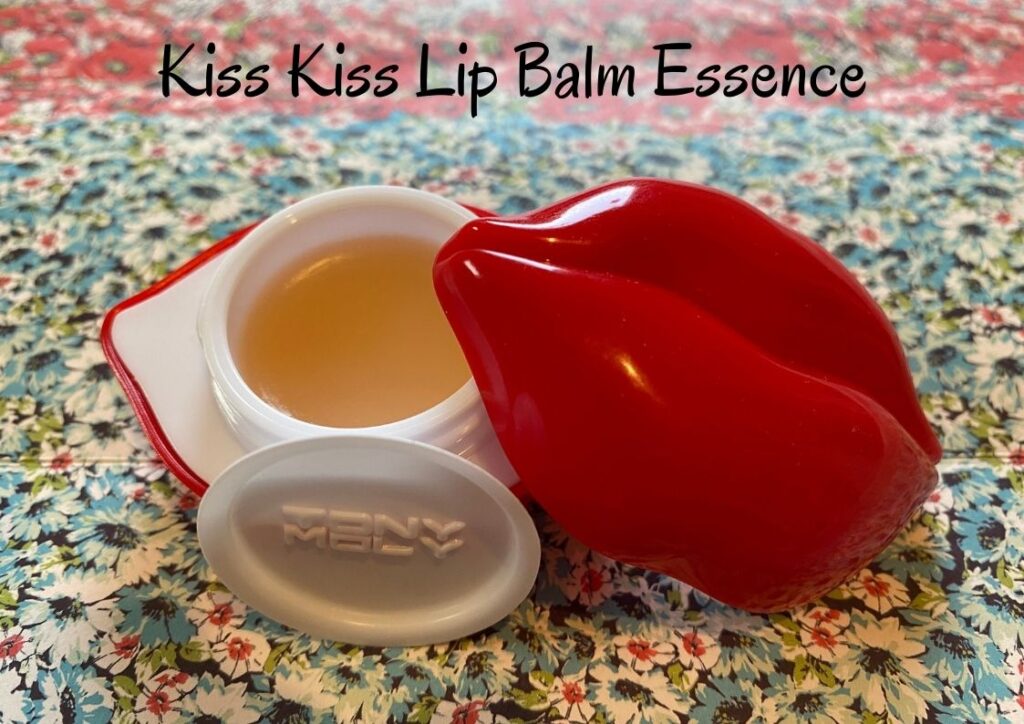 This adorable lip(s) balm comes in the shape of lips, and the scent is also very soft and sweet. It reminds me of organic honey, which I really love. I'm not a huge fan of lip balms that need to be applied with a finger, as it is a bit more messy and less sanitary, but I really love the silky feel of this one, and the scent is divine, so I'm willing to allow it. However, I definitely wouldn't share it. Maybe I would just use it at home, save me the hassle of having to worry about clean hands before I apply, when I'm out and about.
I'm not a huge makeup buff, and I usually go without – unless there is a special occasion. But I cannot leave the house without mascara, and it's the only makeup product I use almost everyday. This mascara comes in their signature Panda packaging, and looks so cute. But beyond that, it's also very pigmented and applies easily, leaving the lashes looking longer and thicker.
In this product's description on the TONYMOLY site, they wrote that it doesn't leave dark circles from being smudged throughout the day. After using this mascara the whole day, in and outside my house, I found that it really doesn't smudge! I don't think I've ever had a mascara that doesn't "shed". So that is really great and impressive.
** to check it out in the UK store – Panda's Dream Mascara
Although I never wear makeup, I do like to put on some eyeliner when I go out (when it's not lockdown and we can go out) with my friends. So this is a product that is always useful for me to have, like the mascara. Usually I do go for the brush liner, as I've always felt like it's more pigmented. But with TONYMOLY's pen liner, it actually came out very prominent without having to put on a bunch of layers. It also made a thin line, which I love, because I usually try to make it thin and subtle.
After using the Long Kinny Gel Pen Liner the whole day, in and outside my house, I found that even though it was easy to apply, it didn't last the whole day. If I was just going out with friends for a couple of hours, I guess that would be fine. But if I were to wear it the whole day, I would need it with me to re-apply a bit. Which is fine, most liners I found are like that. It also smudged a bit, leaving some black on my eyelids which is quite annoying, but wasn't too bad or noticeable.
Other than the mascara and eyeliner, I did not receive any other makeup products, which is actually cool. Like someone there at TONYMOLY knows me personally, they sent me the only two makeup products I actually use fairly regularly. So that was a nice surprise.
According to the product description, on the TONYMOLY site, this night cream is supposed to brighten the face skin, leaving it smooth and soft. I really enjoyed using this cream because besides having a pleasant scent, it is silky soft and feels good on the skin.
After applying it every night for the past two and a half weeks, I'm not sure if I can tell a huge difference, but I can feel some improvement. I'm assuming it also might take longer, for a longer lasting effect. I also have problematic skin, so this is already a great achievement. So I'll definitely consider re-purchasing this product.
** to check it out in the UK store – Panda's Dream White Sleeping Pack
I actually really like that this cream is for pore control, as it is something that I do struggle with. The product description on their site says that the gel cream is made to absorb quickly, which is something that I have noticed, and I really liked that. It also didn't make me sweat, like a lot of creams do, as soon as I stepped outside. It is also supposed to replenish oily skin with lightweight hydration, which I definitely need, because my skin is very oily. And I could definitely feel the difference with other creams I use.
** to check it out in the UK store – Tako Pore Sebum Control Gel Cream
Pro Clean Smoky Cleansing Tissue
Having more wipes is always so useful. I love buying wipes, not only as makeup remover, but also for cleaning and cleansing. However, most wipes are primarily for removing makeup. What I loved about these wipes, is that they are primarily for moisturising and deep cleansing – which is rare to find. It's great because like I said, I don't really wear makeup, and I use them for cleaning my skin. It is so hot and humid here in Tel Aviv, and I always carry wipes with me, for when I get sweaty. Also, the makeup I do wear (mascara and eyeliner) are usually the hardest to remove. But the wipes do so easily, without needing to be rough.
Pureness 100 Sheet Face Masks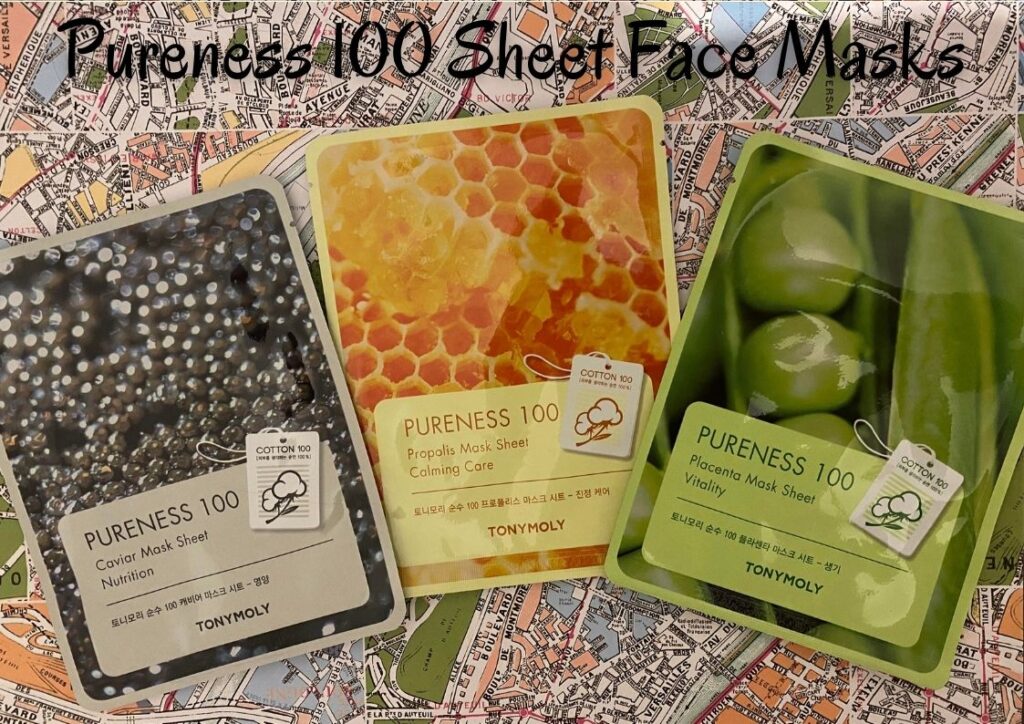 I'm a huge fan of face masks, especially the sheet ones. The only product of TONYMOLY that I have used before this, was their "I'm Real Sheet Masks" – which I absolutely love. Beside being unique, they always leave feeling fresh and clean, especially since I have fairly oily skin. So I was excited to receive masks from a different collections of theirs:
Placenta Mask Sheet – Vitality.
I've used all three Sheet Masks and loved them all. They were rich with moisture and hydration, and were basically dripping from being generously filled with liquids.
Nose patches are always great to have, because who of use doesn't have tons of blackheads there that are difficult to get rid of? It's only a shame that it came just with one sticker. It did help to remove some blackheads, but not more or better than any other nose patch I've tried. But it's still great.
All in all, I'd definitely say this box was worth it. The cost was very affordable, for the amount of products I got – 11 products in the box, plus the banana lip balm and hair wrap which were extra gifts.
All products are of very high quality and I could definitely see and feel the difference, and improvement during and after the use. In addition to all that, it was so much fun and up-lifting. I really enjoyed the whole process and it was a wonderful way to pamper and care for myself.
Self care is so crucial in general, and even more so when you're single. Most of the time you're the only one looking out for yourself. You're also the person you spend most of your time with, especially if you're in lockdown now.
So you have to put in that extra effort, and what better way to do that, than with self care subscription boxes? I know it gave me an extra confidence, mood and energy boost. It also provided me a great chance to spend some quality time with myself, and flourish my self-relationship.
Happy self-caring!
Stay safe, stay healthy and stay strong!
All my best,
Michal B.L.
TONYMOLY October Subscription Box Unboxing Video
** You can also check it out on IGTV or on YouTube
Please share and pin and spread the love 🙂
TONYMOLY sites:
US – https://tonymoly.us/
EU – https://www.tony-moly.eu/en/
UK – https://tonymolyonline.co.uk/
IL – https://www.tonymoly.co.il/