TheraBox Review – "Nourish" May 2021 Subscription Box Unboxing
Unboxing the TheraBox "Nourish" May 2021 Subscription Box – full review and closeup pictures of all the products that came in the box. + Coupon Code
{This post may contain affiliate links, which means I make a small commission at NO extra cost to you. See my disclosure for more details.}
CLICK HERE and use code MICHAL10

to get 10% OFF your first box!
** Check out the end of this post for the unboxing video I made 🙂
RIDDLE OIL CORP | POPPY OIL | WWW.RIDDLEOIL.COM | $50
First and foremost, I'm in love with this packaging. Simple and classy, and looks so elegant and expensive. It's not a scent I would normally go for, but it is an intoxicating floral scent, and I cannot get enough of it. The Poppy oil is one of seven signature scents and incorporates lovely citrus and floral notes containing orange blossom, lemon, rose, and ylang-ylang. It's the perfect size, and can fit either in your pocket or hand bag, so you can re-apply throughout the day. When you roll it on, it administers a good, generous amount, so you don't have to roll it again and again, endlessly to get it out. One of the biggest issues I have with travel, domestically and internationally, is having to pack my perfume. So this definitely solves that.
EARTH HARBOR NATURALS | AURORA SUPERFOOD LUMINANCE AMPOULE | WWW.EARTHHARBOR.COM | $32
Ever since I started getting subscription boxes, one of my favourite products has become facial serums and oils. I've never used them before, but now that I have (thanks to subscription boxes), I'm in-love and cannot live without them. By now I have quite a few of them, and I like to switch them up. This one is definitely fast becoming one of my all time favourites. This superfood elixir is natural, ethically & sustainably made, vegan, cruelty-free, 100% non-GMO, non-toxic, fair trade, plant-based, and free from synthetics, fillers, and nasty chemicals. This serum oil is perfect for super sensitive skin, with its healing properties, which reduces flaking, soothes and softens cracked skin, and guards skin from irritants.
WAY OF WILL | STRENGTHENING NAIL AND CUTICLE SERUM | WWW.WAYOFWILL.COM | $24
This product is perfect for me, because my skin around my thumbs always gets dried and peels. Especially with washing and cleansing my hands so much in the past year. This Cuticle Serum is infused with a gentle yet powerful blend of essential oils that moisturize skin, protect cuticles from dryness and damage, and strengthen brittle nails to work on chipping and breakage. It's also a great size to keep in your pocket or handbag, so you can carry it with you. And you can use and apply it as you wish throughout your day.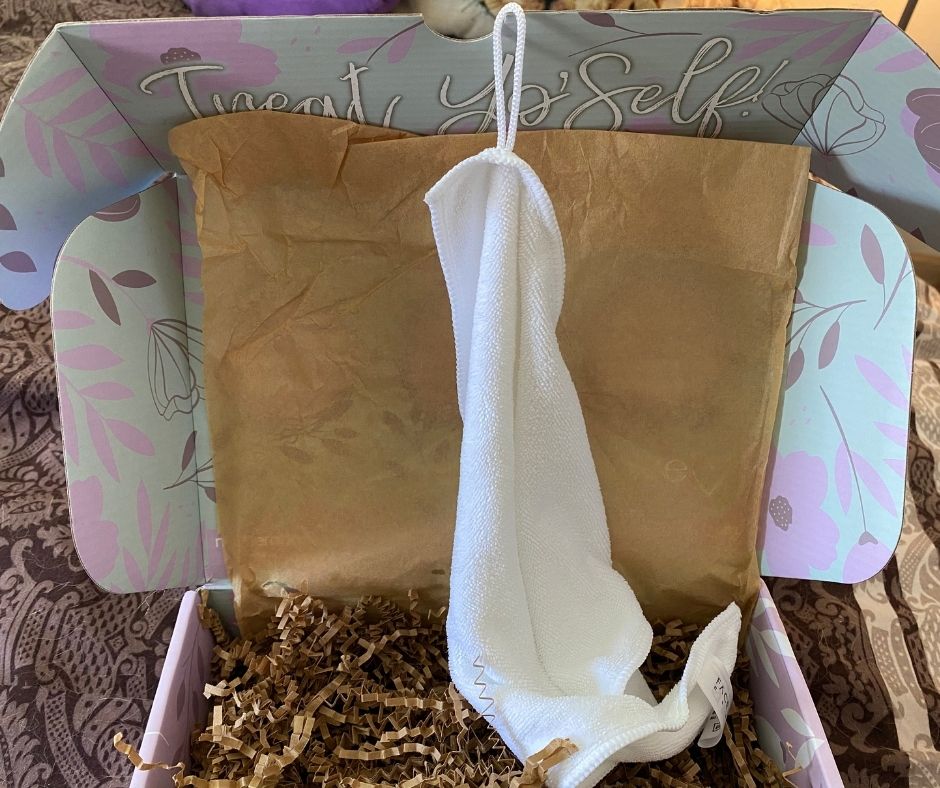 Personally I don't wear makeup, so I can't really say if this works. I do find it very hard to believe, and I'm not a huge fan of washing the face without soap. I also don't see a reason not to use soap. If I had to choose between a towel or soap, I would definitely choose sopa. Although this towel is a very nice product, it's also very soft and feels good on the skin. It doesn't feel like it would damage or irritate the skin. That being said, I don't like using reusable products/ facial scrubs on my face. I feel like it would carry and accumulate more bacteria. This cloth is made of a unique weave of ultra-thin microfibers, designed to gently lift dirt, excess oils, and impurities. It is supposed to leave the skin feeling fresh and healthy, and is also for all skin types, which is great.
REALHER | EYE AM BEAUTIFUL MASCARA | WWW.REALHER.COM | $18
If you've followed me for a while now, then you already know how much I love mascara, and can never have enough. It's also one of the only makeup products I use, and definitely the only one I use on a daily basis. So it's never a miss to receive it in a box, and will always be welcome. It's very pigmented and you don't have to roll it on forever to get it on. But you can also apply it gently and get a more natural look, which is great. This mascara provides a lash-extending and volumizing effect! Comes with an oversized brush that treats your lashes with more volume, length, and strength. In addition, this mascara also nourishes your lashes with Vitamin E and Tropical plant extract, assisting with moisture and last elasticity. Which is definitely a great bonus.
Another product I've grown to love thanks to subscription boxes, are candles. I was never a huge fan of them before, and if I got one, it was only for decorative reasons. Since I started getting subscription boxes, I actually started using them. They're great to create a nice ambiance and mood, and also defuse a great scent. This candle in particular has a wonderful scent, and was a great addition to my recent home spa day self-date. This candle is made of 100% soy, and is crafted with a soothing blend of Apricot essential oil and topped with Rose Quartz to boost the energy of love, chakra healing, and balancing. It's also in a beautiful, colourful tin which I'll definitely be repurposing once its all melted away.
SKIN-FULNESS | I AM ENOUGH HYDRO-CELLULOSE SHEET MASK | WWW.SKIN-FULNESS.COM | $9
Okay, so you know how much I love me some face masks, so they are always welcome. I made it a habit to regularly use them, which means if I didn't get them often, I would run out. And that would be very sad. The I Am Enough Sheet Mask is formulated with a Hydro-Cellulose technology that is biodegradable, cruelty-free, and free from all parabens, artificial preservatives, and synthetics. It is meant for healing, hydrating, and antioxidant ingredients to give you the nourishment and restoration you deserve. I love that it comes soaked in product, and feels really good and refreshing on the skin. I could almost feel it cleanse my skin.
E-RESONANCE | STRESS REDUCTION ESSENTIALS DECK | WWW.ERESONANCE.CH | $22.66
If you're struggling to create a proper self care routine, and come up with ideas – this deck is definitely for you. Self care can come in many different forms, and it's more than just pampering yourself and putting on a face mask. I preach a lot about combining and incorporating self care into your life, and how important it is for your well being. And definitely for your self love journey. And even more so for your embracing singleness journey. This 40 card deck comprises essential 10-minute self-care practices you need to redefine your self-care practice. It's also packaged amazingly, and the illustrations are so beautiful.
TOTAL VALUE: $185+
CLICK HERE to get 10% OFF your first box! – Use coupon code: MICHAL10
Also, once you order your box, you can shop some of these products on their online shop.
TheraBox "Nourish" May Subscription Box Unboxing Video


** You can also check it out on IGTV or on YouTube
Please share and pin and spread the love 🙂