TheraBox "Holiday" December 2020 Subscription Box Unboxing
Unboxing the TheraBox "Holiday" December 2020 Subscription Box – full review and closeup pictures of all the products that came in the box. + Coupon Code
{This post may contain affiliate links, which means I make a small commission at NO extra cost to you. See my disclosure for more details.}
CLICK HERE and use code MICHAL10

to get 10% OFF your first box!
** Check out the end of this post for the unboxing video I made 🙂
The TheraBox has been on my wishlist for quite some time now, and I'm so super excited to finally have the opportunity to unbox it. Unfortunately, I have been having some bad luck with shipping, and quite a few of my packages never arrived. Including my "cozy" November TheraBox. Probably due to black friday and the holidays. However, they are sending me a replacement box.
Luckily, my "Holiday" TheraBox has arrived quite easily and quickly, and I get to share that unboxing with you now. And I gotta say, my expectations have definitely been exceeded. I had so much fun unboxing it, and I'm definitely in love with them. The box contained a nice variety of some very high quality products.
At first, I was quite worried about this serum, because my skin is very problematic and oily, I'm careful with what I apply to it. Especially products that contain oils. However, when I applied this serum it did not feel oily at all and absorbed into the skin almost immediately. It's definitely non-greasy, easy and comfortable to apply. Besides hydrating, this serum is supposed to prevent and reduce wrinkling and aging signs. Personally, I love this product already, and will very likely re-purchase it.
Viola Vann – Color Block Ruffle Sleeve Faux Silk Robe
This silky robe is a prime example for an item I've always wanted, but never would have actually bought myself. It's not very functional or practical for the winter, which is funny because it came in a December box, but it's still really nice, and it will definitely get much use. It's also not the highest of quality, it does feel more on the cheaper side, which is a little disappointing. However, it's still comfy and soft.
This cleansing oil also had me worried because of all the oils in it, but I looked it up and apparently it's actually pretty good for oily skin. On the bottle itself it also says that it's for all skin types. When I tried it on my skin, it didn't feel oily at all, and I actually really enjoyed using it and it left me feeling very clean and fresh. It's both a makeup remover and a cleanser, and for me it would actually be more useful as the latter.
Aminnah – Toasted Marshmallow Sugar Polish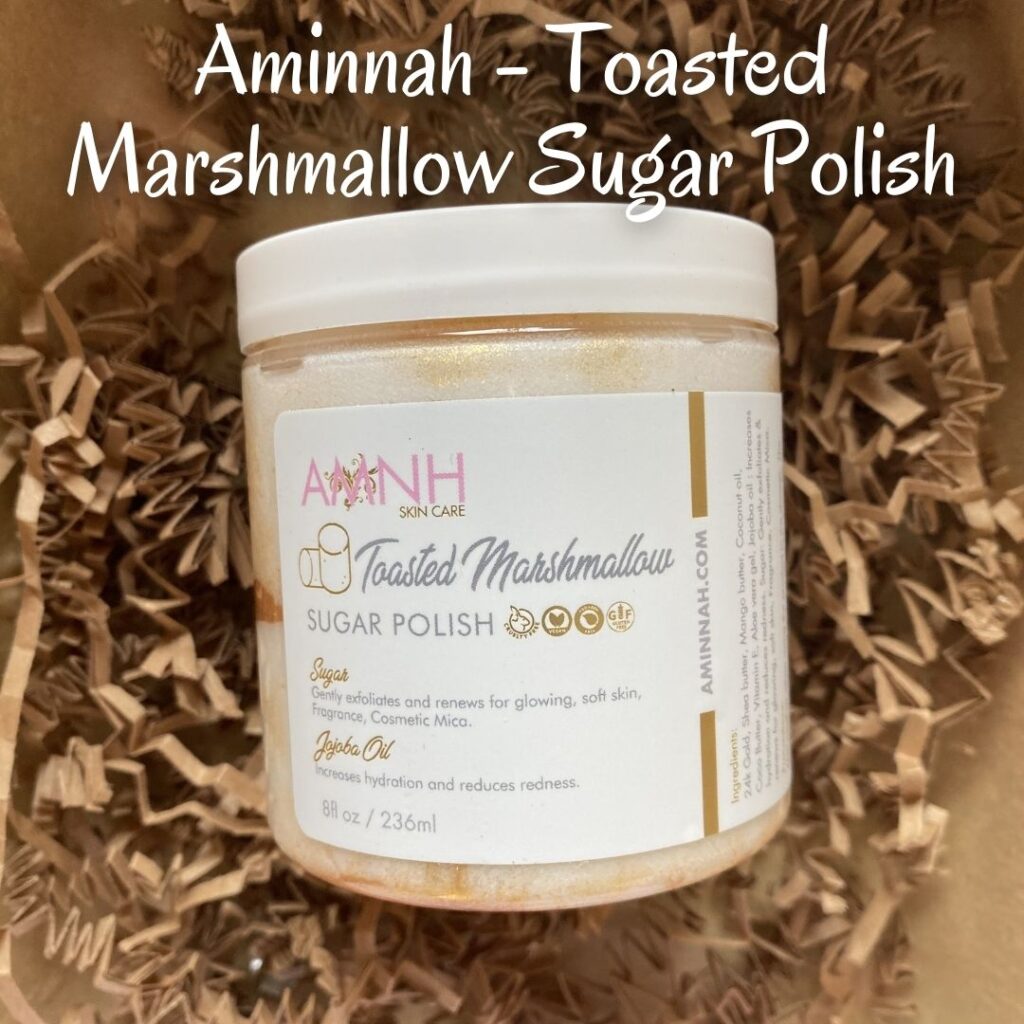 Personally, I find this sugar scrub way too sweet for my liking. I don't have a sweet tooth, and apparently I also don't have a sweet nose. While this scrub is pretty great, and I enjoyed trying it in the shower, I probably won't use it again. The sweet scent is extremely strong and overpowering, and while I do love the products itself, and it does feel high quality, I will probably give it to my sister.
Up Top Accessories – "All Is Well" Beanie
This beanie comes in cream, pink and black – and I was super excited to receive the black one, as it is my favourite colour out of the three. It's soft and warm and feels like it's very high quality. It's also quite adorable, and looks great and I'm so glad I got it. It will definitely keep me nice and cozy this winter.
I don't actually wear makeup at all, I have no idea how to even apply it properly. So this snowman makeup sponge will not get much use out of me as a makeup sponge, as intended. It will however make an adorable knick knack to decorate my shelf with.
It's been a while since I used hair masks, but I do love them and I'm so excited that I got this hair mask in the box. It's also not a traditional hair mask, as it's a sheet one and not a cream one. It's also a wonderful addition to use on a nice home spa date, and will definitely make it feel that much more special. Amongst other benefits, this mask is supposed to help with hair growth which is great for me because my hair grows veeeery slowly.
This set of 30 cards is a great way to self reflect. Inside this small box are 30 questions for 30 days, that you can ask yourself in order to monitor your mindset and progress. As described in the product description, this is a happiness boosting activity. It contains thought provoking questions to ask yourself daily, so you can be more mindful of our decisions and choices and the path we are on.
Free Period Press – The Look Back Plan Ahead Workbook
This notebook coincides very well with the intentions cards, as you can use it to write down your answers. That way, it helps you keep track of your progress and intentions. It can help you keep a written documentation of your thoughts and intentions, and that way, be able to stand true to your words better. Furthermore, it will help you reflect deeper into yourself and your journey towards your goals and dreams. It can assist you in creating a happier daily routine and keep your mood in check.
Overall, I'm very pleased with the "Holiday" box. The vast majority of these products wouldn't have been any that I would have purchased alone, but now that I have them, I'm so glad I got them. They have now all become an inseparable part of my skincare routine. And that's the beauty of subscription boxes, that they provide you with products you never knew you wanted. And now that you have them, can't live without. Or products that you've wanted, but never quite manage to actually take the leap and purchase them. Either way, it's a huge win.
CLICK HERE to get 10% OFF your first box! – Use coupon code MICHAL10
Also, once you order your box, you can shop some of these products on their online shop.
TheraBox "Holiday" December Subscription Box Unboxing Video


** You can also check it out on IGTV or on YouTube
Please share and pin and spread the love 🙂