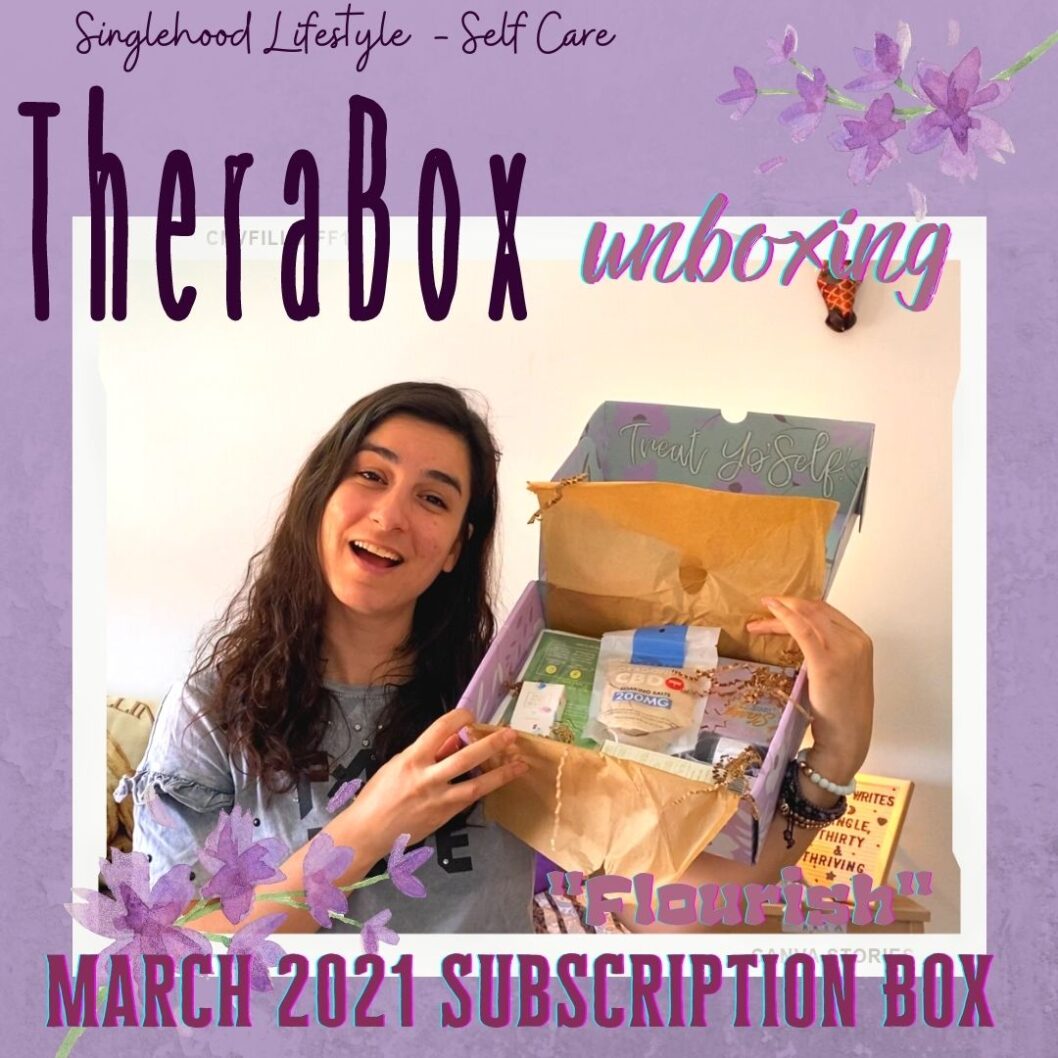 TheraBox "Flourish" March 2021 Subscription Box Unboxing
Unboxing the TheraBox "Flourish" March 2021 Subscription Box – full review and closeup pictures of all the products that came in the box. + Coupon Code
{This post may contain affiliate links, which means I make a small commission at NO extra cost to you. See my disclosure for more details.}
CLICK HERE and use code MICHAL10

to get 10% OFF your first box!
** Check out the end of this post for the unboxing video I made 🙂
It has been a very long wait for this box, and I'm super excited to finally get it and open it up. Apparently they had some shipping issues, and mixed in that it had to cross the world… It took the March box quite some time to get here. But it was definitely worth the wait, as always. This month's theme is all about flourishing, which is always super important. Not only to help the world flourish, but also allow yourself to flourish. It's so important to care for yourself, it's not selfish – it's a necessity.
This cool product is made with 100% plant-based product and can be used either as a mask or face scrub. If used as a mask, all it needs is five minutes on the skin before you need to wash it off. So that's great if you're on a time crunch and need to hurry. It does, however, make a huge mess… Or maybe it's just me. Things got very green, very quickly. And I'm not sure if I even got it right. It said 1-2 scoops of the powder, but I actually needed to use more to get full coverage of my face. Beware – it does stink of seaweed and smells very fishy, so if you're not into that – don't get it. Personally I didn't mind it so much, and it went away as soon as I washed my skin. It dried pretty quickly on my face and left me feeling super clean, and surprisingly, not green.
AMINNAH SKINCARE | STARRY COLLAGEN GEL EYE PADS | WWW.AMINNAH.COM | $32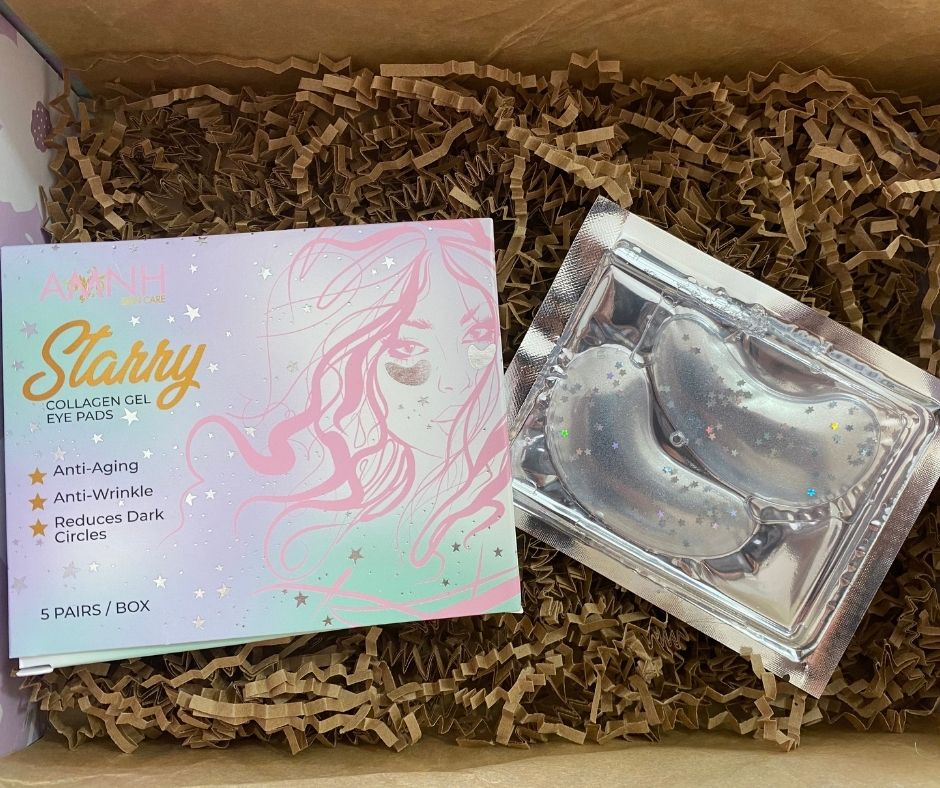 I'm never not going to be happy about receiving any kind of masks. And especially these starry and sparkly ones. They're super easy to apply, feel really good on the skin and really helps me feel good about myself. These hydrating gel-pads are supposed to help you debuff, brighten, soothe, and firm the skin around your eyes. It contains great ingredients like collagen and hyaluronic acid. It's a bit too early to tell yet, but I do feel great after using them and can see a slight improvement, which is amazing.
TRUST FUND BEAUTY | "NO FILTER" NAIL POLISH | WWW.TRUSTFUNDBEAUTY.COM | $15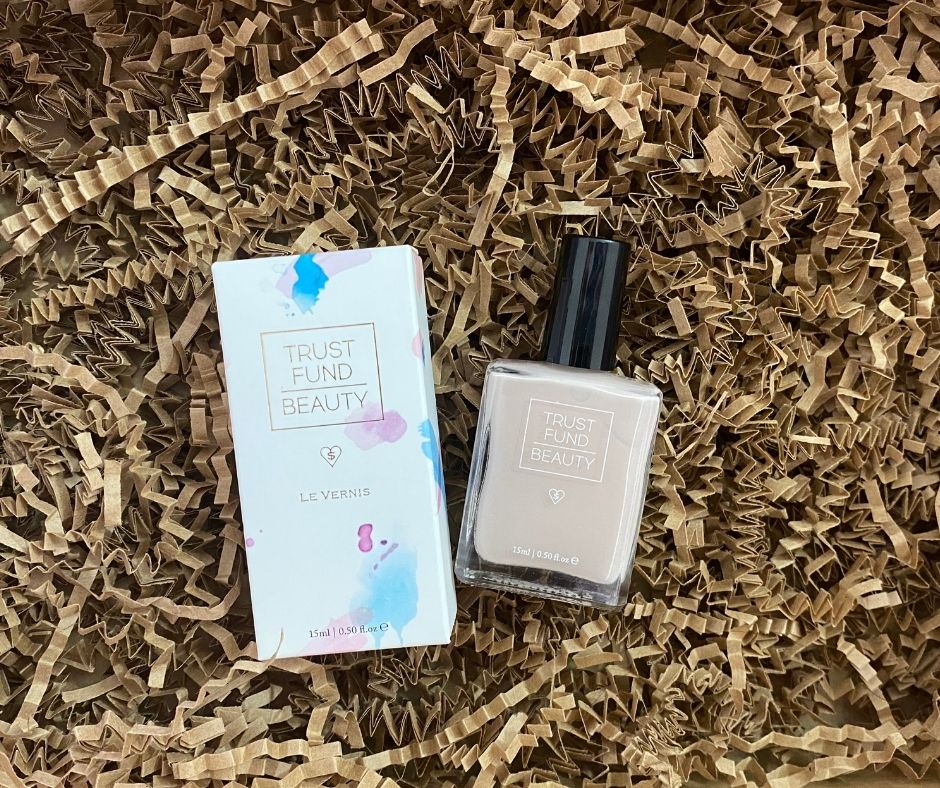 Oh, how I've missed getting my nails done. They have been neglected lately, so it's nice to get this reminder that they deserve some TLC too. Personally I feel like it's the small things like getting your nails done that make you feel good about yourself. Usually I prefer getting them done with gel nailpolish, because I always make a mess with the regular ones. I also would have never have chosen such a light colour, but it is very pretty. Predictably I put this one on, and it got very messy very quickly. And while it did dry daily quick, it still took a few hours before I could do anything, because any small scratch, peeled it off. Personally I don't think I will use it again though, I just made a huge mess and I'd rather go back to getting gel.
ALT LINEN | PAIR OF FOREVER KITCHEN TOWELS | WWW.ALTLINEN.COM | $30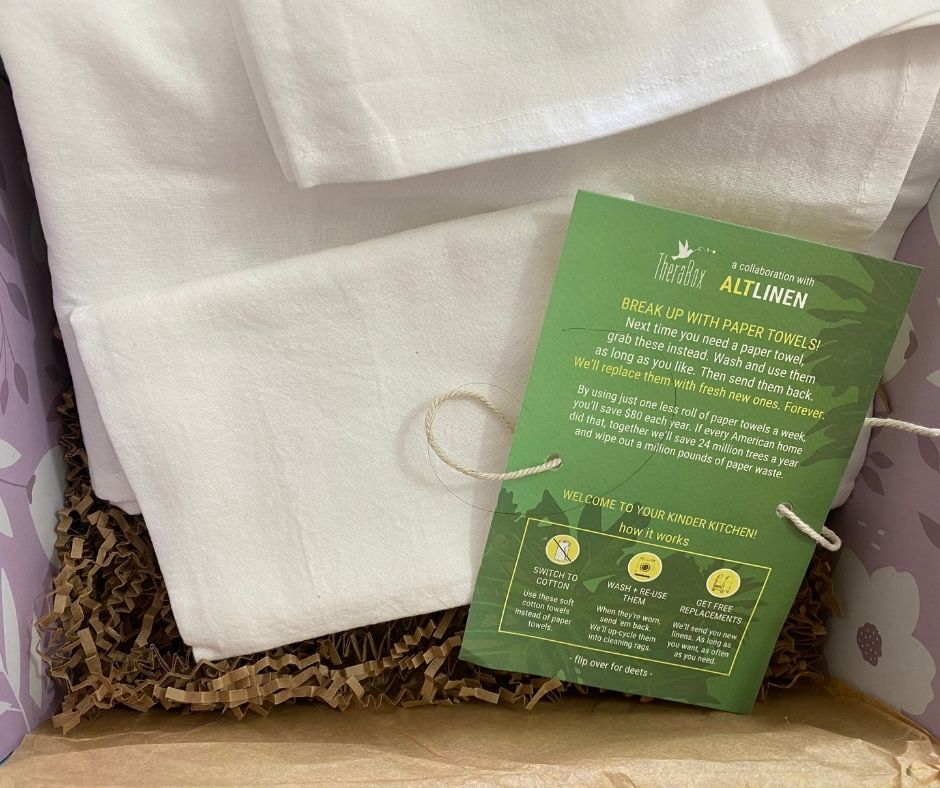 I love cooking and creating some nice dishes, but that can definitely get messy, especially when I make curry. It's really hard to cook without using paper towels, but it also always feels like such a waste. Especially since one paper towel is never enough, so it always ends up being a huge usage. So this product is perfect for me, and is already getting great use. It's not only nice and better to use than paper towels, they're also sustainable, reusable, recycled and can be recycled. So it's a win win all around. You can actually also send in your old ones, and they will send you new ones for free! You just need to pay for shipping and they will reuse your old ones for commercial use. Which is absolutely amazing, and I'm all for it.
TRU EARTH | TRU EARTH ECO-STRIPS LAUNDRY DETERGENT | WWW.TRU.EARTH | $19.95
This is such a great eco friendly product, and I'm all for saving water and whatever and wherever we can. I tried it out in two different loads. The first one was sheets and towels, and I shredded up one strip into the tray as instructed. It didn't come out with a super fresh and clean scent however, like I like it. So it's hard to tell if it did much. In the second load I put in just regular clothing, but this time I put in two strips. It still came out with no scent. I love having a strong, clean scent. But if the product is better for the planet, I wouldn't mind having less of a scent. Unfortunately though, the laundry didn't even smell clean, and I had to wash them again with regular detergent.
These bath salts are made from some great ingredients such as CBD, coconut, lavender, and Vitamin E. Personally I'm not a huge fan of baths, though… Yeah, I know, I'm crazy like that. I just get hot and bored very quickly. Especially now with the weather getting much warmer. I didn't get a chance to have a bath with them, because it has just been way too hot for that lately… But I did, however, put them in a small sub and soaked my feet in them and it was very nice. It's a great way to pamper yourself.
BODIFRESH | DEW DROPS OF SPRING | WWW.BODIFRESH.COM | $7.95
So this product turned out to be completely different to what I thought. Silly me, I thought it was like a soap for… Cleaning yourself after you've done your business. Which seriously weirded me out, although I know some people actually do that, and that's great. However, when I actually sat and read the instructions I realised that you spray it onto your toilet paper, instead of buying toilet paper wipes. Personally I don't really use wipes regularly, and I don't find it particularly necessary. It's a wonderful product and a great way to protect our planet, however, I don't think it would get much use out of me. When I'm in the bathroom, I don't want to start spraying my toilet paper.
CURIOUS BIRD (STACY MOORE STUDIO) CURIOSITY CARDS – GARDEN OF THE MIND | WWW.CURIOSITYCARDSHOP.COM | $19.95
Okay, so these cards are completely not what I thought they would be. At first, I thought they were like curiosity prompts, to help you be curious and learn new things. However, upon further inspection I discovered that they're meant for personal reflection. You're supposed to doodle and write your thoughts and feelings on the cards. And they're supposed to help you make discoveries about yourself and your world. Which is actually a great, fun and interactive way to reflect on your journey. For those who struggle with doing it alone and finding where to even begin… This is definitely a great way to do that. And I do believe that it's super important to reflect on yourself and your path.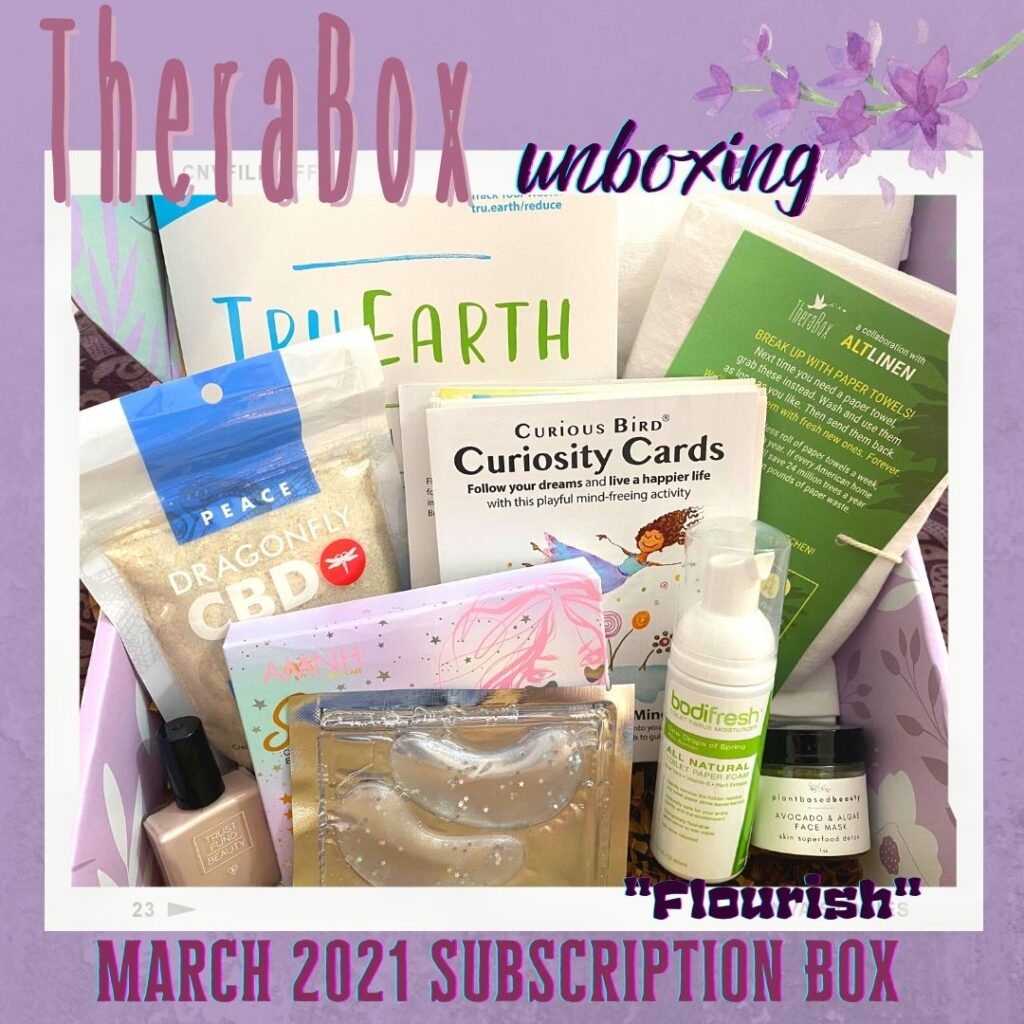 TOTAL VALUE: $165+
CLICK HERE to get 10% OFF your first box! – Use coupon code: MICHAL10
Also, once you order your box, you can shop some of these products on their online shop.
TheraBox "Flourish" March Subscription Box Unboxing Video


** You can also check it out on IGTV or on YouTube
Please share and pin and spread the love 🙂