SinglesSwag February 2021 Subscription Box Unboxing
Unboxing the Singles Swag February 2021 Subscription Box – full review and closeup pictures of all the products that came in the box. + Coupon Code
{This post may contain affiliate links, which means I make a small commission at NO extra cost to you. See my disclosure for more details.}
CLICK HERE to get 15$ OFF your first box!
** Check out the end of this post for the unboxing video I made 🙂
It has been a hot minute since I last unboxed a Singles Swag box, and I'm super excited to finally share with you this February box. Last week in my Therabox 'Amour' review, I wrote about how it is a great way to celebrate Valentine's as a single and your own self love. I'm a huge fan of subscription boxes in general (as you surely know by now), and the Singles Swag specifically. It is by far my favourite box, and I truly believe that it's the best gift to get yourself.
The Singles Swag is $39.99 for their regular box, and it contains 7-8 full sized products. They also have a petite box, which is $24.99 and contains 4-5 full sized products. What I love about them most, is that the boxes contain a huge variety of items – from self care, to beauty products, jewelry, snacks and other great knick knacks. It is curated with the main intention to help singles love themselves better, and I definitely think it does the job.
SPONGELLE – 'You Have My Heart' Body Wash Infused Buffer | $20
This is the second time I've received a spongelle in a Singles Swag box, and I'm super excited about it. Unfortunately I cannot use it on my back, as it is prone to acne. And the last one that I tried using, irritated my back and made it worse. But I use it for my legs and it is a great way to prevent and take care of cellulite. I also use the soap itself (I squeeze it out) to wash my back, without the sponge.
This spongelle is meant to cleanse, moisturize, rejuvenate and restore your body. I definitely feel like it does the job and will definitely buy another once it's finished. The last one I had lasted me a month or so, and I'm assuming this one will last the same amount of time. It's shaped like a heart and it's so super adorable. And the scent is to die for!
This adorable oil dup is supposed to hydrate and moisturize the lips no matter the weather. Whether it's cold or hot, these oils are sure to protect your lips. They are cherry and orange scented, and while I'm not a huge fan of citrus scents, I do love the cherry. They are basically like a lip gloss, and not in the form of oil like I expected. But that's actually good because oil would be more prone to dripping.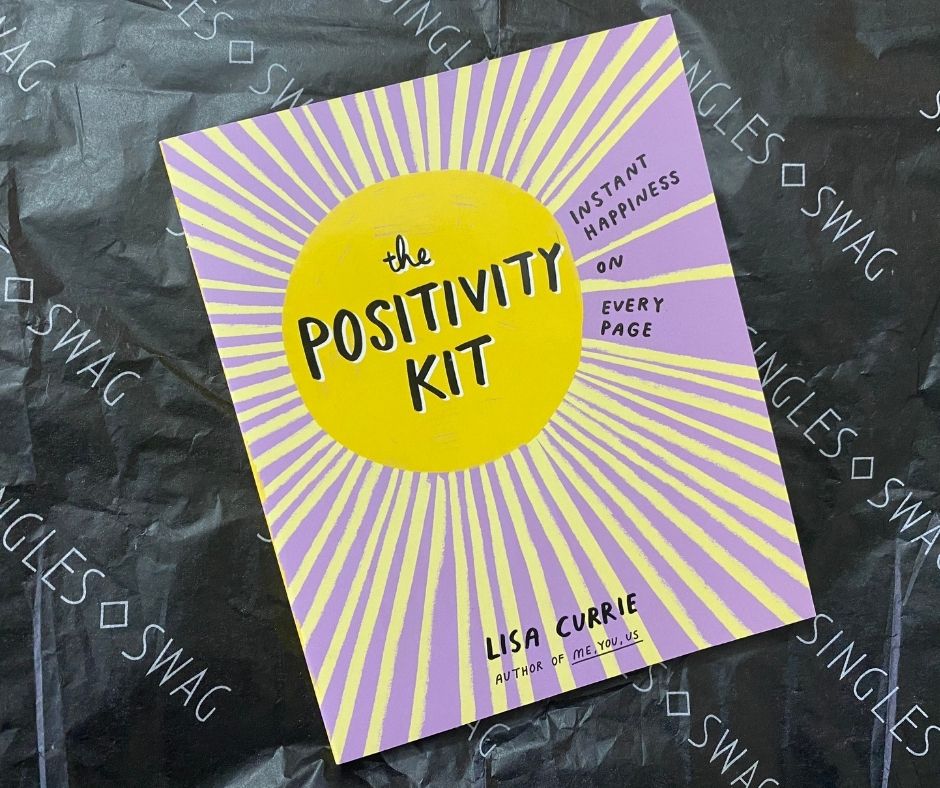 If you're struggling to embrace yourself and your singleness, this workbook is a great way to do so. It will help guide you on your path with different simple activities that will boost your energy, self love, confidence and more. This is definitely a great way to do so, especially if you're struggling to find a way or where to begin. Whenever you need them, this positivity kit is sure to help you smile and bring you comfort and joy. There are many fun, interactive surprises and activities that will definitely help you on your path to self love and embracement.
SWEET WISHES – Premium European Chocolate bar | $5
Chocolate is always a good idea, especially when it's dark chocolate and you don't have a sweet tooth like me. And especially to help boost your energy and mood. Personally I can't tell the difference between this chocolate and any other chocolate, but it is really good, and if I could I would have definitely gotten another.
IVY OLIVIA – Moroccan Argan Hair Oil | $38
I love my hair, but it is a little too thin and grows so achingly slowly. So anything I can use to help me with those problems, is a blessing. Moroccan Argan oil is supposed to be very good for your hair, and this one is no difference. I haven't used it for long yet, but I already love it. It's supposed to leave your hair more manageable, nourished and smooth. Also, it's great for helping you style your hair and get rid of the annoying frizz we all suffer from. It's also supposed to help with damaged hair, which has been coloured and exposed to too much heat.
FEEL FREE – Mineral Clay Beauty Mask | $ 29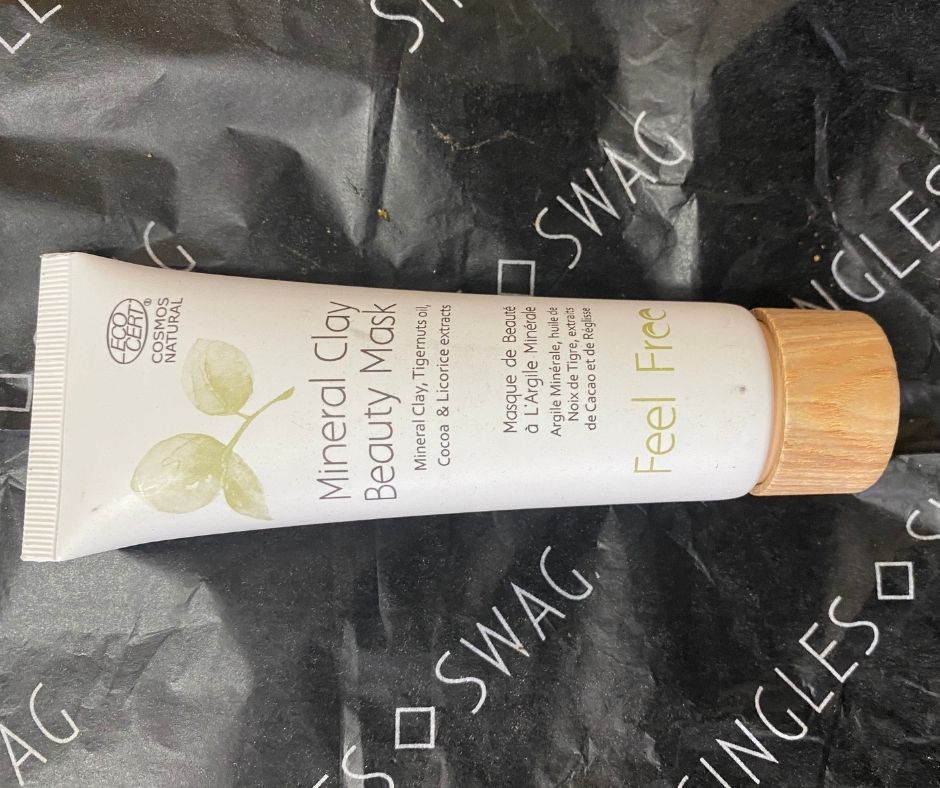 I'm a huge fan of face masks, and I think they're one of the best ways to pamper yourself. However, I do usually prefer the sheet ones, as they're easier to apply and less messy. This clay mask is quite messy, but it's really nice and I enjoyed using it. The clay face mask is supposed to refine and cleanse the skin texture, and it feels great on the skin. It tingles quite a bit, which is usually a sign that it works. Also, it's great for when you don't have a lot of time, as you only need to keep it on for 7 minutes or so.
INDIGO AUTHORITY – Coral Pink Long Necklace + Earrings set | $58
This is officially my new favourite jewelry set! It's simplistic, subtle and absolutely gorgeous. I'm in love with the length of the necklace, and how elegant the whole set it. You can either wear it down with your everyday clothes, or up with an elegant dress. Also, the necklace is long enough to layer with any other matching necklace you have at home. It's always great to get some nice jewelry for yourself, especially since we don't have a partner to get for us. So getting them in them in the box, is a perfect surprise.
CHEEZOS – Double Sided Desk Plaque | $18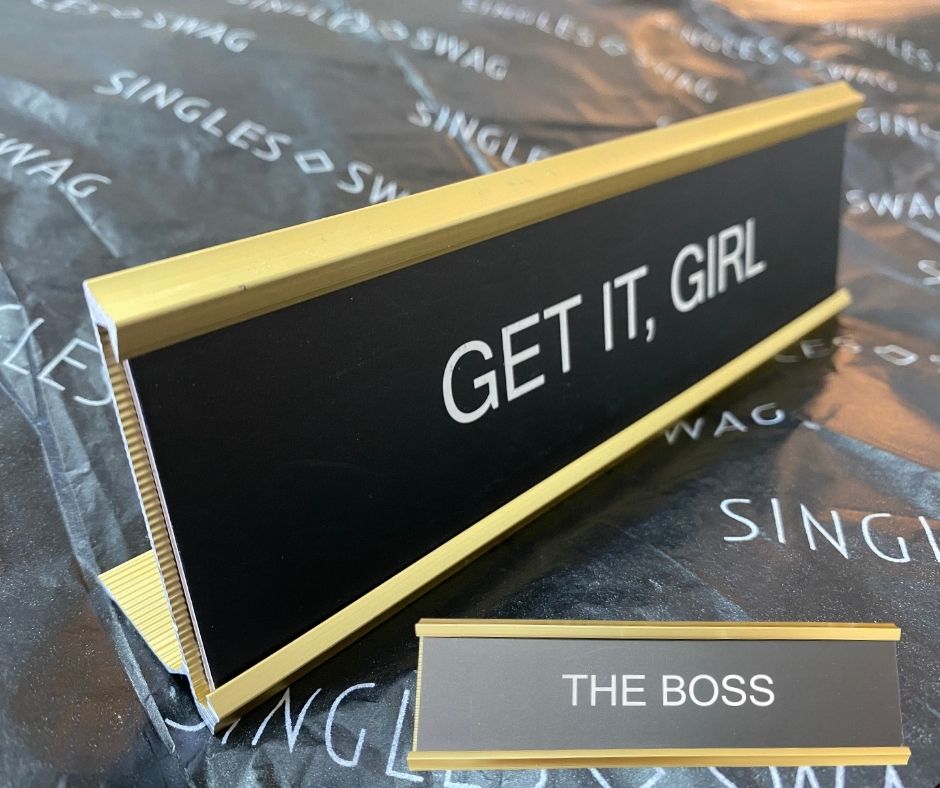 This plaque is the best addition I never knew I wanted for my desk and work space, and now that I have it, cannot live without it. And isn't that just the beauty of subscription boxes? They provide you with all of the best, high quality products at the best price, and also with all the things that you never knew you wanted. Or never even thought of buying. And now that you have them, cannot imagine your life without them. Being productive, and working well, is all about the environment you create for yourself. And what better way than this plague with the best affirmation ever?
CLICK HERE to get 15$ OFF your first box!
Also, once you order your box, you can shop some of these products on their online shop.
The total retail value of the box is $211
Singles Swag February Subscription Box Unboxing Video
** You can also check it out on IGTV or on YouTube
Please share and pin and spread the love 🙂