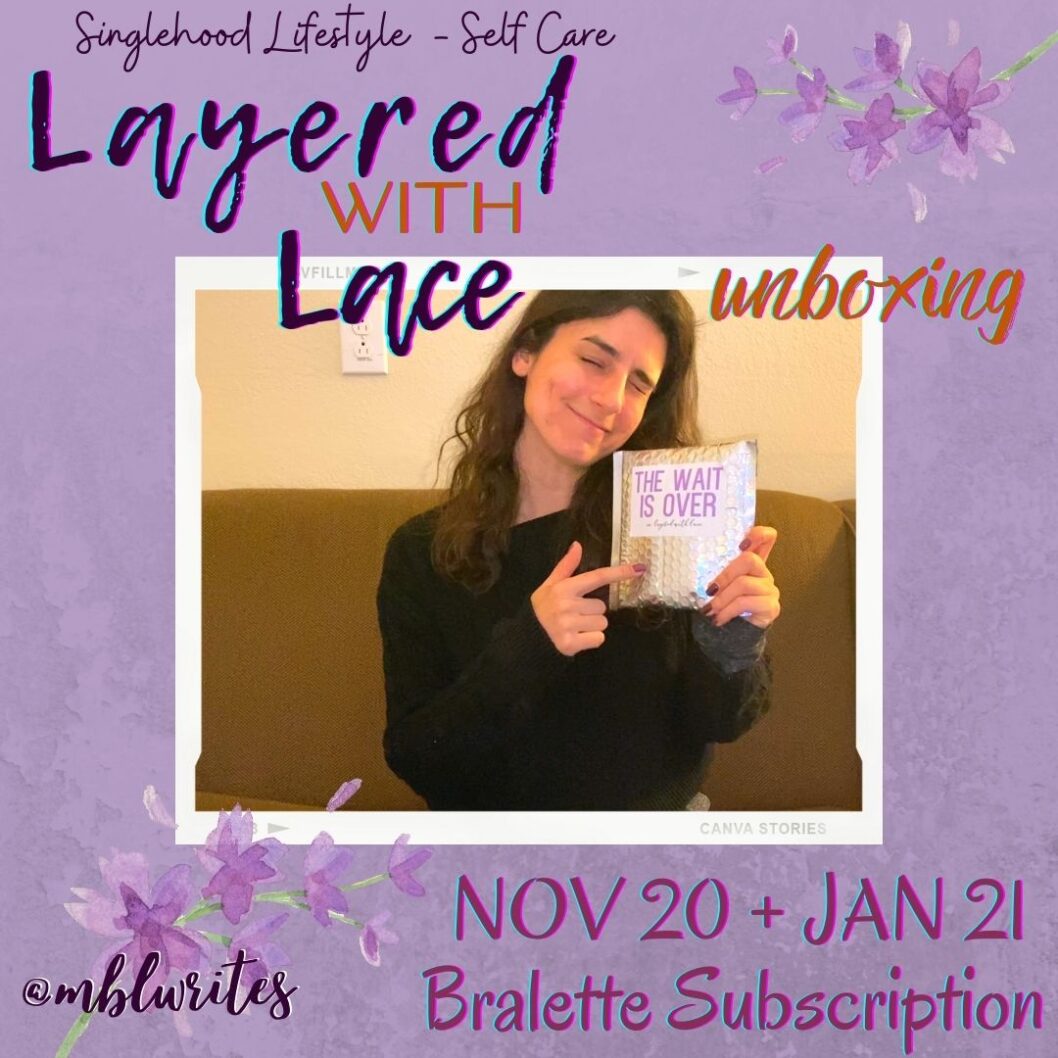 Layered With Lace Bralette Subscription NOV 20 + JAN 21
Unboxing the Layered With Lace Bag November 2020 + January 2021 Bralette subscription. Full review and closeup pictures of both months Bralettes.
A bralette subscription is actually perfect for me, because I'm quite flat chested and never really wear regular bras. Normally I wear basic ones, and hesitate to splurge and go for the nicer, "fancier" ones. But when I discovered Layered With Lace, I couldn't stop myself. I saw the pictures of November's beautiful bralette, and was just sold on the spot. It was so perfect for me, that I couldn't resist. I had to have it.
Personally I wouldn't get one every single month, because I would never be able to keep up. But that's what's nice about the subscription, that you can pause it at any time… Just skip a month you don't want to buy it. At the beginning of every month they release pictures of that month's bralette… So you can see what it is before you actually get it. Because not everyone will like it, it may not be everyone's style, or colour. You can decide if you want it or not, and every 15th or 16th of the month they process the orders.
The subscription is $18 a month with free shipping within the US. I had to pay $14 for the shipping to Israel for the November one.
(I skipped the December one because I didn't like it. The January one I ordered to the US, because I'm here on a trip). You can also purchase previous months bralettes on their online store, which is really nice if you missed a month you really liked.
I did have some trouble with receiving the November one, which I understand because it was around Black Friday and all the holidays… However, I will say that it was shipped on the 24th of November and I only received it on the 11th of January. Which is a long, exaggerated wait. And during that wait I contacted Layered With Lace, telling them what happened. They responded saying they will check it out, but no one ever got back to me, or followed up to see what happened with it. No one checked in to see if I ever received it. Which is very different from any other subscription box I had to contact. So while it's not such a big deal to me, it is quite disappointing customer service.
But it all shrinks and evaporates in the face of receiving the bralettes, because let me tell ya… I'm in love. They're probably not the best out there… but I still love them.
November 2020 Bralette
This beautiful, rustic orange bralette was absolutely love at first sight… I saw it on the Layered With Lace website, and I just knew I had to have it. It has a bra like clasp on the back and criss cross, adjustable straps… So you can adjust the sizing to fit you best, which is always great. The sizing was also pretty perfect… I got the size Small and it sits great and comfortable, with no pressure on the skin. It is soft and not itchy at all, despite being made of lace. Also, it looks great under shirts and gives the breasts a nice, natural look.
It is covered completely with lace, and while it does have a double layer over the breast… (One regular fabric and the top one lace). It's still quite sheer – which in my opinion is nice. My only minor issue is the lace on the bottom, around the bust, is that it rides up and scrunches throughout the day. It can get a little uncomfortable and frustrating to have to pull it down every so often. But the bralette is so beautiful, and makes me feel so good and sexy, that I really don't mind it. It's such a small price to pay for what I got.
January 2021 Bralette
Normally I don't go for blue, because I'm not a huge fan of the colour… However, this royal dark blue bralette is the one exception, because it is stunning. It has a vertical, striped fabric on the outside, with lace detailing alone the ridges and straps. It does not have adjustable straps or clasp on the back like the November bralette, but it still fits perfectly. The only issue is with the straps, that they're right on the crisp of being slightly too long. Which is fine for me now, but if they stretch any more, they might start being too big. But I guess I could always tie or sew them. For now it's fine, but they don't hold up the bra too well, so the top part of it slips down the breasts every so often, but not too bad.
Other than that, it sits comfortably and well, without squishing the breasts flat like many bralettes do. It looks good also with a shirt or sweater over it and gives a nice shape. The fabric is nice and soft, and again, the quality is really great and I can feel and tell that it's made really well.
Overall I'm super pleased with the Layered With Lace bralettes and I will continue to purchase from them.
I won't get it every month, because I don't really need that many bralettes… Which I guess is probably their biggest issue. It's a wonderful gift to buy yourself, to help you feel good and boost your confidence. Because like I said in the undies unboxing… Wearing nice, even sexy underwear can really help you build your own self confidence. You can also buy it for a close friend or a sister – I can guarantee it will be much appreciated.
Layered With Lace Bralette Subscription Unboxing Video

** You can also check it out on IGTV or on YouTube
Please share and pin and spread the love 🙂