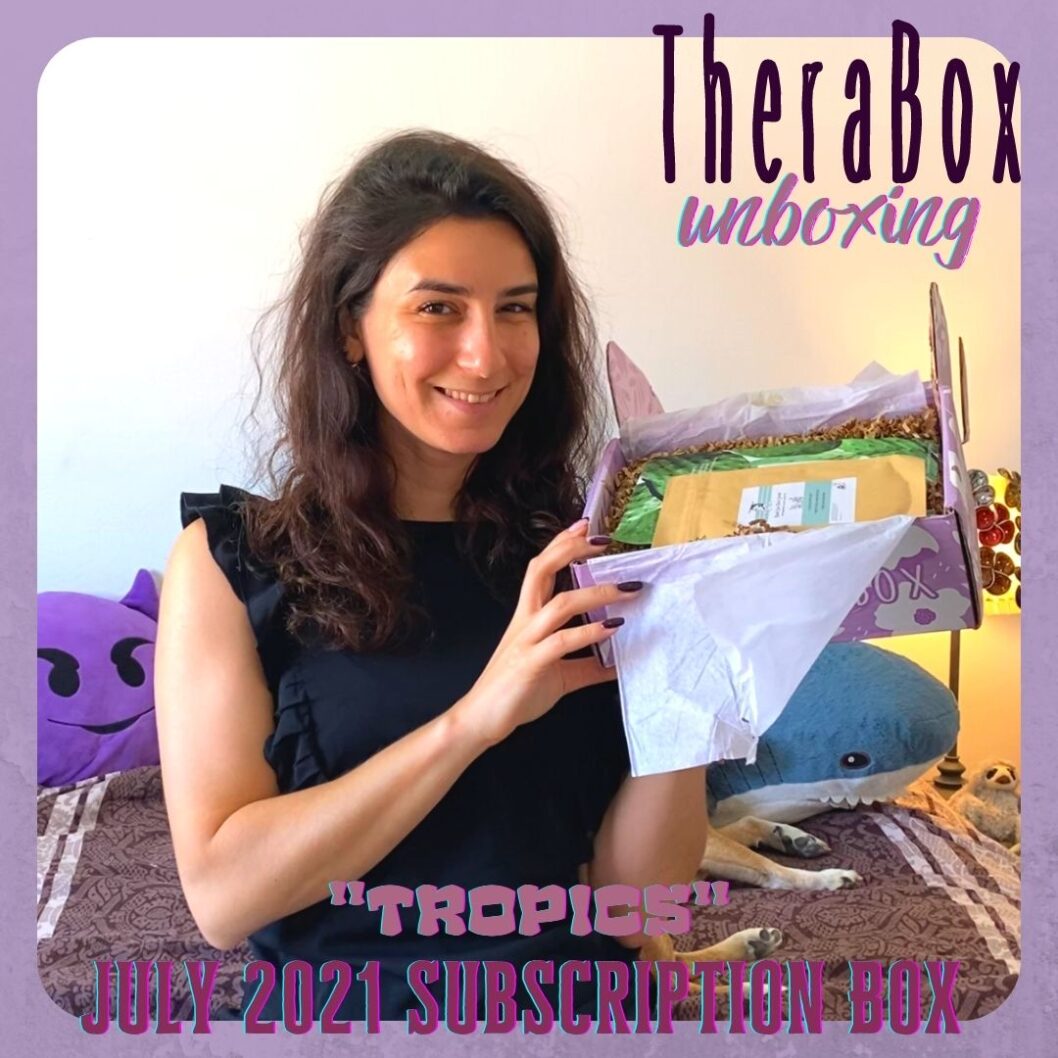 TheraBox "Tropics" July 2021 Subscription Box Unboxing
Unboxing the TheraBox "Tropics" July 2021 Subscription Box – full review and closeup pictures of all the products that came in the box. + Coupon Code
{This post may contain affiliate links, which means I make a small commission at NO extra cost to you. See my disclosure for more details.}
CLICK HERE and use code MICHAL10

to get 10% OFF your first box!
** Check out the end of this post for the unboxing video I made 🙂
Summer can be an extra difficult season for our self care routines, as the added heat and sweat demands extra intensity and frequency. Being sweaty, sticky and stinky is never really fun, and only succeeds in decreasing our good feels… So having sufficient supplies of self care products is essential. Which is why Therabox's July box is so great – it contains products minded exactly to that. It contains all the works – from head to toe, almost every product you need to survive this tropical season.
My hair in general, and scalp specifically is in desperate need of TLC. We all have different parts of us that we tend to neglect more than others. Not on purpose, it's just hard to keep up with everything. For me, it's my scalp. And it's important to check in with ourselves every so often to see where we're slacking and lacking. Then try to make up for it as best we can, as there's no part of us that should be left uncared for. Our whole body, as our whole self, deserves some good treatment and pampering. And this serum is amazing, it's so easy and fun to use. It's also a great opportunity to give my scalp a nice massage.
This hair serum is made exclusively to help revitalize, rejuvenate and nourish your scalp. It contains a blend of organic extracts and oils like Black Cumin Oil… Known as the cure to literally everything, which boasts anti-inflammatory benefits that help soothe the scalp and help with flakiness and sensitivity. Tamanu Oil, known as Green Gold and a native tropical evergreen found Polynesia and East Asia… Which is rich in nutrients like linoleic, oleic, palmitic and stearic acid that deeply nourishes the hair, contributes to hair growth and helps combat scalp fungal infections.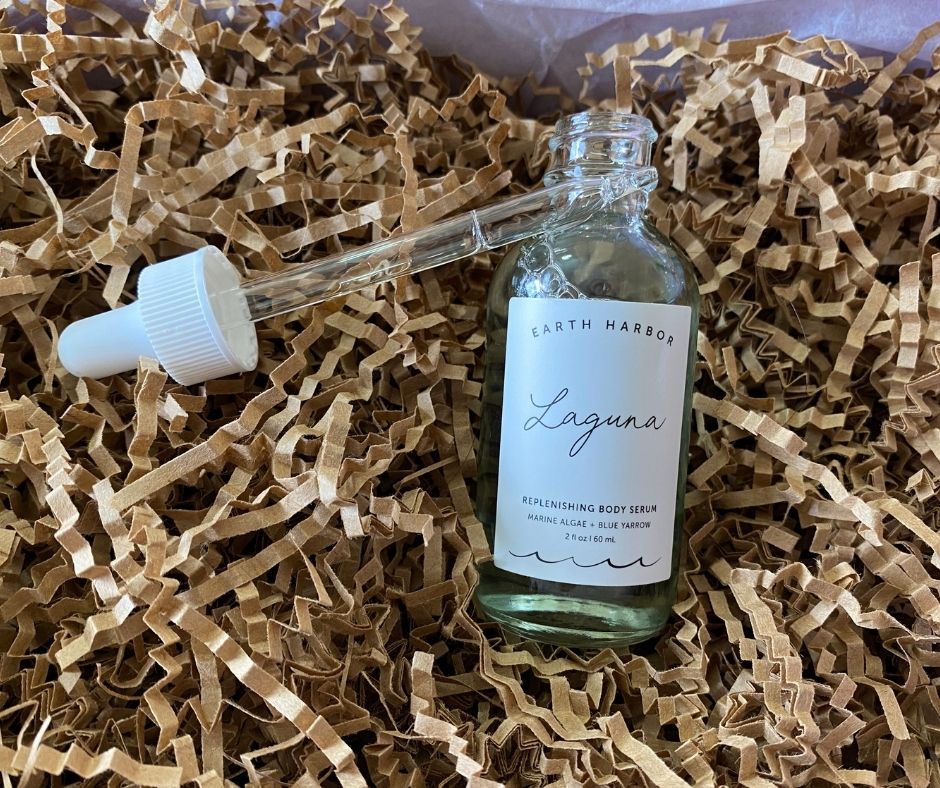 I have oil for my face, sculp, hands and cuticles, it's only fitting that I'd have a body serum as well. One of the steps in my self care routines that I get most lazy with, is moisturizing my body. But we all know how important it is to take care of it, and our skin. Especially during the hot summer days, when we spend more time in the sun. So this amazing serum is a great incentive to start being more consistent with nourishing my body as well. It's a bit early to tell, but I feel like it's also been helping with my bacne… Which has been so difficult to get rid of with just soap, cream or any other product.
The Laguna Body Serum is a tantalizing blend of pure botanical oils, including Blue Yarrow, Marine Algae, Coconut, Rosehip, and Geranium Blossoms. This synergistic island blend promotes feelings of skin respiration and intercellular energy while delivering deep nourishment, hydration, and a gorgeous luster to your sweet skin. Plus, it's made with high-quality maritime products that are non-toxic, synthetic-free, plant-based, ethical, and sustainable!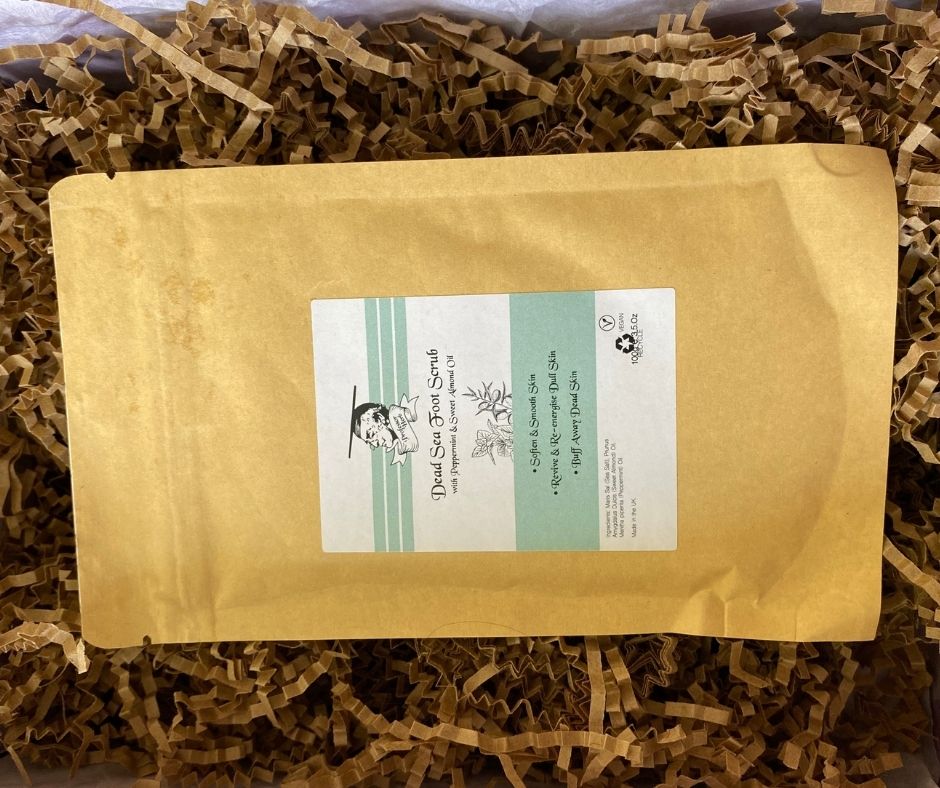 Well, third times a charm for this box, because the third part of my body that I tend to neglect in my self care routines… My feet. And I mean, we are on our feet most of the day, whether in sandals or shoes, they get hot and sweaty probably more than any other part of our body. Not to mention how dirty they can get, and all the dried skin they're prone to. It's funny receiving a Dead Sea product from across the world when I live in Israel… But it's definitely a fun surprise, and a great product. Which is also absolutely perfect for a home spa date with yourself – where you can just take your time to soak in it and massage your feet.
Featuring 100% pure peppermint, jojoba, and sweet almond essential oils and dead sea salts from the Southern Sea in Israel (which btw has one of the highest mineral contents in the world), this refreshing foot scrub sweeps away dead skin cells and buffs dry spots while deeply moisturizing and revitalizing the roughest and driest tired feet! The mineral content from the dead sea salts works hard to pull out toxins and impurities while the peppermint oil perks up tired feet with a cooling and soothing sensation.
You all know by now just how much I love facial masks, and I especially love the ones I get from Therabox, because they're always so great. They definitely always send really good, high quality masks. And this one is no exception. This three step mask is definitely a great addition to my mask collection. So if you're looking for a face mask for your next home spa day date, look no further… This face mask is fantastic, and I love that it's the whole, full treatment with its three steps. In addition to making you feel good, face masks are so great to help you care for yourself and keep you looking younger for longer.
Cleanse, smooth and soften your skin with this repairing and hydrating 3-step routine! Made with a uniquely powerful blend of actives, this set includes an exfoliating scrub, sheet mask, and a moisturizer for a complete salon-like facial in under 20 minutes! STEP ONE: an Agave Enzyme facial cleanser that helps exfoliate built-up dirt. It also moisturizes while being rich in Vitamins B1, B2, C, D, K, and Pro-Vitamin A. STEP TWO: the Super Cactus Biodegradable Sheet Mask, a natural, biodegradable sheet mask infused with Cactus extracts and Vitamin C, AHA, BHA, and PHA to improve your skin's natural glow. Seal the deal with STEP THREE: the Prickly Pear Moisturiser, a super-glowing moisturizer using extracts of prickly pear, Vitamin C, Niacinamide, and fruit enzymes.
Facial wipes are one of the most useful products of the summer, especially here in Israel where it can get very hot and sweaty. And even more so during the pandemic when you need to wear face masks… Which not only causes you to sweat even more, but also makes you more prone to breakouts and acne. This may not be best for those of you who wear makeup, but for those of you who don't, like me… Having wipes in your bag during hot summer days is a must, so you can use them to wipe away all that dirt and sweat throughout the day, and keep your face as clean as possible. Not to mention, that they also help you feel super refreshed. And the scent is divine!
Made up of hydrating, balancing, soothing, skin-barrier-friendly ingredients (seaweed sodium hyaluronate, allantoin, aloe vera, chamomile, cucumber extract, and witch hazel) the Coconut Lime Soothing Wipes turns the whole cleaning-in-a-pinch situation into a tropical beach retreat! It's gentle enough to cleanse even the most sensitive and intimate areas (it's pH-balanced to vulvar skin) but powerful enough to wipe down an entire body even after an intense activity! Plus, it's intentionally formulated with just 0.5% coconut lime fragrance and zero harmful ingredients that can throw your sweet spots off balance.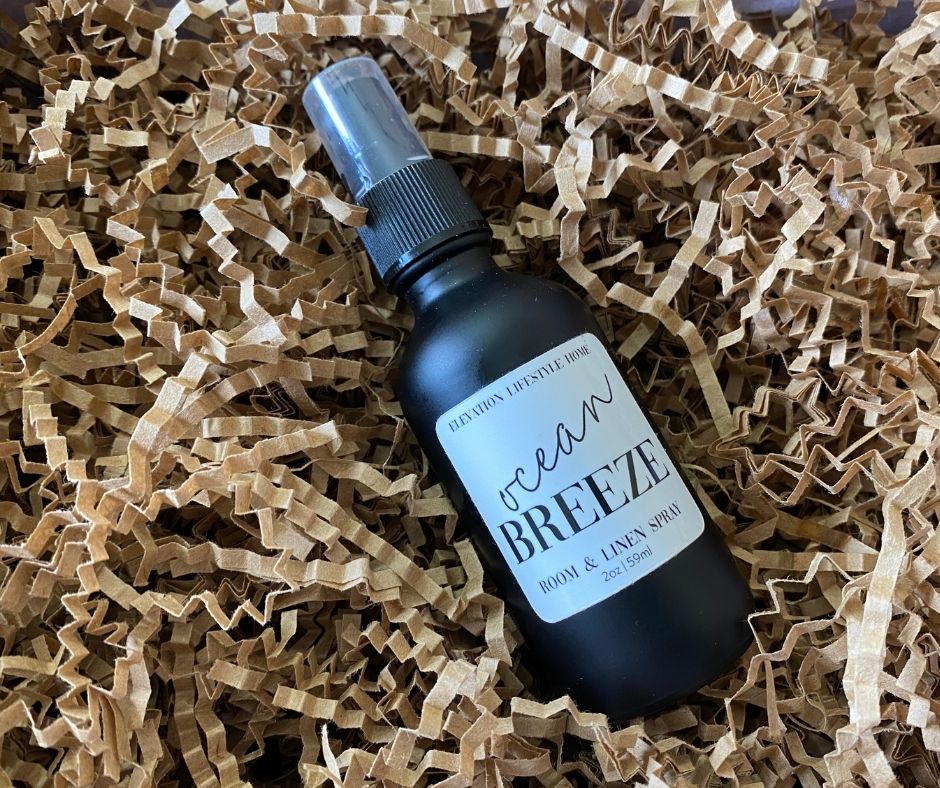 Personally I prefer diffusers, as I can just place them on a shelf in my room, and they just do the job… As opposed to a spray that you need to spray the room with yourself. This spray is great for the restroom or any other small space where you need to freshen up the scent. When using it in my room, I had to spray a relatively large amount of times until I could actually smell it, and it also faded quite quickly. But it's definitely great if you just want to get rid of a tale, stuffy or any other bad smell. It definitely has a great, fresh and breezy scent, which is suitable for the summer. Made with organic & wildcrafted witch hazel, organic gluten-free grain alcohol (derived from corn), and phthalate-free fragrance, feeling the tropics is just one spray away.
Taking care of ourselves is an inside and out, ongoing task. It's not only about working out, showering and using face masks. It's also about nourishing and replenishing our body from the inside, which is mainly done by proper consumption. Besides the foods and drinks we consume, we also need to strengthen our bodies with the right vitamins. Personally, this is another aspect of my self care that I tend to neglect. Which is another reason why these subscription boxes are a great investment. It's too early to tell, but so far I've loved taking these gummies, and they're definitely tasty.
A tasty way to keep your gut, skin, and immune system in total balance, these tropical berry-flavored Probiotic + Prebiotic gummies are formulated with all-natural, plant-based ingredients that contain biotin, vitamin C, B9, antioxidants, and a super dose of 5 million CFU beneficial bacteria per serving. It's made up of potent prebiotics and probiotics, making it synbiotic. Think of probiotic bacteria as a seed and the prebiotic as a fertilizer — it helps the good bacteria to multiply and grow, giving it the best chance of survival in your gut while keeping your natural flora and digestion balanced.
For some crazy, odd reason, we're so much better at taking care of others, than we are of ourselves. In fact, more often than not, we tend to neglect ourselves in favour of others. And even if we do want to take care of ourselves, we usually have no idea where and how to even begin. I know that when I was freshly singled and in desperate need of an all around self care routine… I was quite lost and didn't even really know what it's even supposed to look like. So having a deck of cards like these, can definitely guide you and provide you with amazing prompts.
Use this time to connect with yourself and pay attention to how you feel and what you need. Shuffle the deck and start whenever you're ready. Pick a card, reflect on the question and walk yourself through your answers. You can use the deck as a self-care starter or as day-to-day self-assessments or as weekly self-care challenges. Even if you're busy and it doesn't seem like the right time, challenge yourself to make time for some self-conversation and create space in your life even for just a few minutes daily.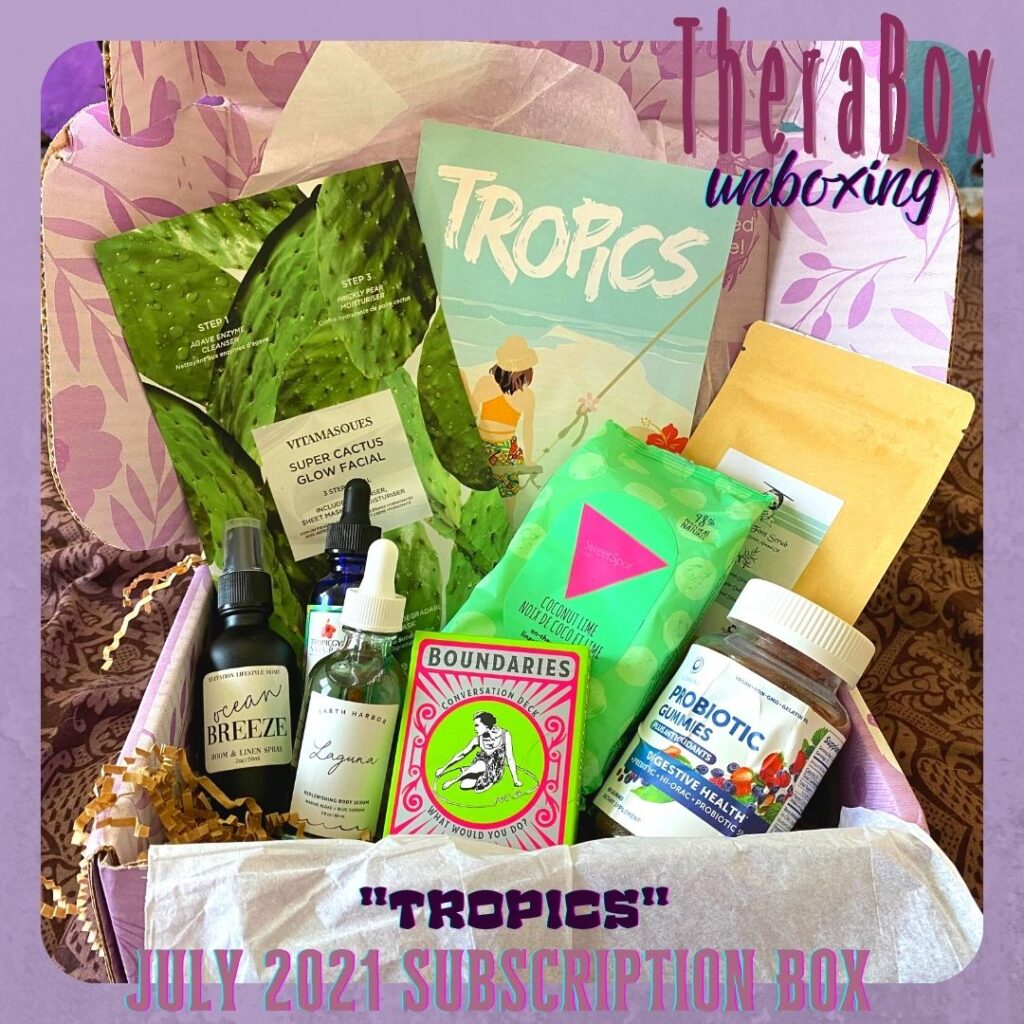 TOTAL VALUE: $145+
CLICK HERE to get 10% OFF your first box! – Use coupon code: MICHAL10
Also, once you order your box, you can shop some of these products on their online shop.
TheraBox "Hello, Summer" June 2021 Subscription Box Unboxing Video


** You can also check it out on IGTV or on YouTube
Please share and pin and spread the love 🙂