TheraBox Review – "Hello, Summer" June 2021 Subscription Box Unboxing
Unboxing the TheraBox "Hello, Summer" June 2021 Subscription Box – full review and closeup pictures of all the products that came in the box. + Coupon Code
{This post may contain affiliate links, which means I make a small commission at NO extra cost to you. See my disclosure for more details.}
CLICK HERE and use code MICHAL10

to get 10% OFF your first box!
** Check out the end of this post for the unboxing video I made 🙂
EARTH HARBOR | SUNSTONE HAIR REVIVE ELIXIR | WWW.EARTHHARBOR.COM | $30
My hair has been in desperate need for some TLC for quite a while now, so this product is definitely long overdue. Especially with summer upon us, and the extra hot Middle-Eastern sun. Earth Harbor's Sunstone Hair Revive Elixir uses the superfood nutrition of Seaweed and Coconut, anti-pollution properties of Jasmine and Calendula Flowers, and ultra-rejuvenation properties of Carrot Seed and Jojoba Oils to fortify, nourish, and revive dull or damaged hair. This is a great and essential product to have if you want to take proper care of yourself and your hair. Just massage it into your scalp and let it work its magic on your hair. Plus, it feels really nice.
CHIKY BOTANICA | GLOW NECTAR FINISHING BRONZING OIL | WWW.CHIKYBOTANICA.COM | $28
As you all probably already know, I'm not a make-up buff, and the only form of make-up I use regularly is mascara. And maybe sometimes eyeliner. So while this product is really nice, I wouldn't even know where to begin using it. My sister, however, was more than happy to receive this product and loves using it. Chiky Botanica's Glow Nectar Bronzing Oil combines a nourishing blend of sunflower, jojoba, and argan oil + a touch of organic mineral oxide paired with rich notes of vanilla and Amyris for a radiant shimmer without the greasy feeling.
WICKS + SCENTS | LEMONGRASS VEGAN BAR SOAP | WWW.WICKSANDSCENTS.COM | $7
I'm usually not a huge fan of bar soaps, but I will definitely make an expectation for this one. Besides the fact that it has a divine lemongrass scent, it also feels so good on my skin, and leaves it feeling extra clean and fresh. Especially my back, as I do tend to get some annoying bacne. It's definitely a great addition to my shower and hygiene routine. This Lemongrass Vegan Bar Soap is beautifully garnished with dried lemon balm and infused with natural Lemongrass essential oil, a natural toner that has antiseptic and astringent properties for even and glowing skin
JUBEL NATURALS | OUTDOOR ROLL-ON OIL | WWW.JUBELNATURALS.COM | $15 CAD ($12.40+ USD)
Mosquitoes are the worst, and having to spray ourselves with stinky sprays to repel them, is even more annoying. This roll on, however, makes the whole process that much more pleasant. Or at least as pleasant as can be. It's not the best smelling product, but it definitely smells so much better than the usual repellants and works just as well. It's definitely easier to carry, as it's very compact, and I love the roll on feature. This plant-based and DEET free insect repellent roll-on blends lavender, lemon, eucalyptus, tea tree, thyme, and rosemary to soothe skin and repel pesky pests.
SOULISTIC ROOT | AFTER SUN SPRAY | WWW.SOULISTICROOT.COM | $12.90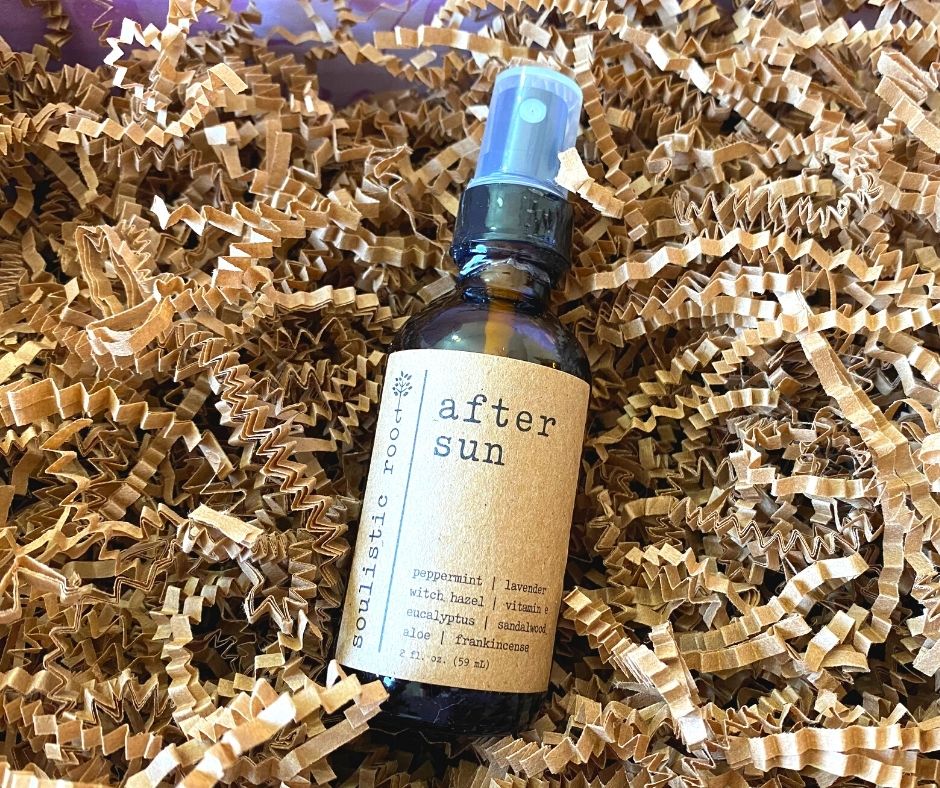 Okay, this spray is by far my favourite of the whole box and was very quick to win me over. My life will forever be changed and will never be the same again now that I've discovered this amazing spray. I just got back from a vacation in Greece, and while there I got burned and used this spray. I didn't know what to expect, but I definitely did not think it would work like magic. It did. Within one or two uses, my burnt skin transformed into a nice, tanned tone. It's too early to tell yet, but it doesn't seem like it's going to peel either any time soon. So bye bye aloe vera gel, and hello after sun spray. The After Sun Spray is made with pure, therapeutic-grade essential oils that nourish + hydrate the skin and help decrease the chance of peeling, pain, and inflammation associated with sunburns.
ULTIMA REPLENISHER | ELECTROLYTE HYDRATION POWDER (6 FLAVORS STICKPACK) | WWW.ULTIMAREPLENISHER.COM | $7.99
I actually love the idea of this product and I was super excited about it, but I'm not a huge fan of the execution of it. The taste of the powder (in water) is actually very nice at first, and I love the variety of flavours they provide… However, it has a terrible, artificial taste, and I could barely make it through and drink the whole thing. But if it actually works, it might actually be worth it. Apparently it has 0 calorie, 0 carb, and 0 sugar electrolyte powder, and supports optimal hydration and replenishes electrolytes lost from sweat and physical activities. Made with electrolytes, vitamin C, zinc, and hydrating minerals such as magnesium, potassium, calcium, sodium, chloride, and phosphorus, this nutrient-rich powder works in a delicate balance to prevent cramps and keep the body hydrated all day long.
VITAMASQUES | SUPER BAMBOO LIGHT DAY CREAM | WWW.VITAMASQUES.COM | $25
it's been a while since I received a day cream, so I was super excited to get this one, as my day creams are running out. It's also a great one to use right now with the sun being at full force. This bamboo cream has been amazing so far and I love using it. Made with a powerful blend of natural extracts including young Damyang bamboo leaves and multi-algae complex, this versatile cream will keep your skin hydrated and nourished while protecting it from pollution, dust, and blue light emissions.
PIVOT: FIVE PRACTICES TO STRATEGIZE AND SUPPORT YOU THROUGH CHANGE | WRITTEN BY: PAULINE CABALLERO | WWW.GOLDENBRICKROAD.PUB | $26.95 CAD ($22.30+ USD)
If you follow me on Instagram, you know that my life has been a bit all over the place this past year and a half. From being on unemployment, to quitting my job and starting a new one, to going on unemployment again and moving back in with my mum. Needless to say, change has been a huge part of my life lately… And while I'm good with change, even for me it's been hard at times to adapt. So this book is definitely a welcome addition to my life and I've been enjoying reading it, and implementing some of the suggestions and advice into my own life. Learning the art of pivoting is essential to our wellbeing is this month's first Happiness Boosting activity. This five-week course will train your mind to develop habits that will support you to thrive in ever-evolving environments.
30-DAY FREE YOGA MEMBERSHIP + FREE 5 DAY PROGRAM FROM PIVOT METHODS WORTH $100 | WWW.POWERYOGAATHOME.COM | $30.00
I've never been a huge fan of yoga, but I am a huge fan of working out, taking care of our body and leading a healthy lifestyle. I'm also all for trying out new things and experimenting, so I'm definitely looking forward to trying out this Yoga program. And it's super easy to implement and include in your own life wherever it fits, as you can do it from the comfort of your own home, at the time that suits you best. Take your flow, wherever you go with this second Happiness Boosting Activity – a 30-Day Full Membership from Power Yoga at Home. A practice that is for everybody and every BODY, this course is beginner-friendly and doesn't require advanced flexibility.
TOTAL VALUE: $185+
CLICK HERE to get 10% OFF your first box! – Use coupon code: MICHAL10
Also, once you order your box, you can shop some of these products on their online shop.
TheraBox "Hello, Summer" June 2021 Subscription Box Unboxing Video


** You can also check it out on IGTV or on YouTube
Please share and pin and spread the love 🙂