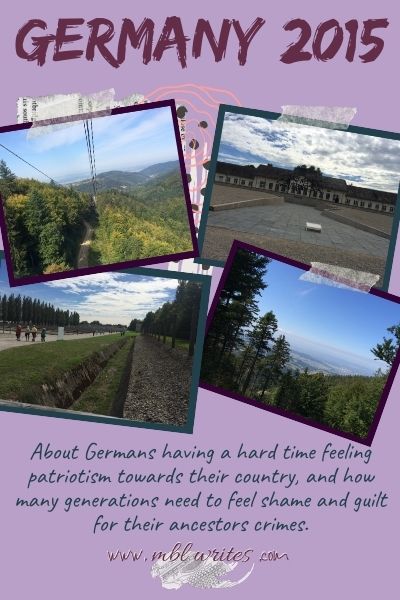 About Germans having a hard time feeling patriotism towards their country, and how many generations need to feel shame and guilt for their ancestors crimes.
Two of my greatest, most burning dreams have always been travelling and writing. Only in the past few months have I actually decided to merge the two into travel writing. Unfortunately, due to the Corona-virus, the whole world has paused and the skies have closed, and we were all forced to put our lives and travels on hold. Here in Israel we've slowly been going back to normal, but we still cannot fly anywhere, and no one knows when we will be able to. So I thought, why not start writing about my past travels? I have a fairly impressive bank of trips, and a lot to say about them.
There are so many travel blogs out there, and many sites such as TripAdvisor that can give you a list of top attractions, restaurants and hotels. While I will share some of those, my blog will be different – I would like to write and talk about travel partners – whether it be friends, family or people I meet along the way, the interactions with them and the locals. I will touch upon the cultures, history and other interesting facts and tidbits that were prominent in my trip. When I travel – I like to do so with all my senses, because every city, village, park and trail have a story to tell beyond what is seen to the eye. I will choose only one or two subjects for each trip to focus on, as to not overload with information and make them too long.
I decided to start this journey with my trip to Germany, which is one of the most interesting trips I have been on. For many people, it is a controversial destination, especially as a Jew. My Grandmother would have a heart attack (God forbid!) if she knew I visited there. History has many tragedies and horrifying events, it would be hard to find a place without them – so I don't like letting them dictate my trips. Thus, if I want to visit Germany, I will do so.
While there, we started off in Berlin, then made our way to Freiburg and from there to Munich, ending the trip in Cologne. While both Cologne and Freiburg are beautiful, interesting and amazing cities (and definitely recommended, especially Freiburg) – in this post I will focus on Munich and Berlin as the main topics I will be discussing concern them most.

I was travelling with two of my best friends, and we stayed at the Alcatraz Backpacker Hostel. While there we discovered the free city tour, which was guided by a local history student who took us around the city with a group of other travelers – which is a great way to meet new friends to hangout with whether you're travelling alone or with friends.
Berlin is a city filled with history and interesting landmarks and museums. One of my most memorable moments was when we visited the "Memorial to the Murdered Jews of Europe" during the city tour. The holocaust is a subject studied thorougly here in Israel, so for us it was a special moment. I think it is beautiful that many cities in the world commemorate the terrible Genocied which had cost the lives of many and not only Jews.
While at the memorial, there were kids running around the concrete slabs, playing and screaming as if they weren't in a memorial that commemorates horrifying events and people that were brutally murdered. It was hard for me to see, not only as a Jew, but as a human. No matter the religion, I believe that any kind of disrespect for memorials should be reprimanded. But should I go up to strange kids and scold them for their behaviour? Shouldn't there be a supervising adult, or at least a parent at home to educate them about disrespect of memorials and holy grounds?
But what was most beautiful about that moment, was that many people, from different corners around the world, from different religions and races, came together to put a stop to that game. It was a show of the progress the world is making, of how differences don't make you any less human.
People go on and on about Berlin, and while it is for good reason, personally I did prefer Munich. It's hard to explain, there is just something more unique and special about Munich, and I felt a sort of connection while there. Unfortunately our stay was just shy of the Oktoberfest (which is in September, go figure…), but we still got to enjoy our beer and even visited all six beer gardens of the city. We also had some fun trying on some lederhosen and Dirndl – which 'till this day I regret not buying (it would have been a perfect costume for Purim!).
Our visit to Munich had also stirred up a lot of sensitive topics regarding our heritage. While there we went on another free city tour and the guide spoke about Germans having a hard time feeling patriotism towards their country, because of what their ancestors have done to the Jews in the Holocaust. And I have felt that guilt from a lot of locals when I told them I am from Israel, a lot of them felt the need to apologize and make up for the horrible history.
We also went on a guided tour of Dachau concentration camp, which was the first one built and was initially intended for political prisoners. With time it also turned into a death camp for thousands of Jews who died from malnutrition, disease and overwork or exhaustion. But it wasn't only Jews, there were also artists, the physically and mentally handicapped and homosexuals. Today there are memorials for each group that was discriminated against and murdered in cold blood. They stand together in unity, to respect each one individually but I also like to think that they are a warning for future generations, a plea for us all to stand together no matter the gender, race, religion or anything else.
While on the train on the way back to the city, my friends and I got into a discussion about the Germans feeling guilty until this day, having a hard time with patriotism. And while I believe strongly that the Holocaust (and any other Genosied that has unfortunately occurred) is something that needs to be taught and remembered for the rest of iternity, I also believe that there is a limit to how much guilt should be layed on the Germans today. I found myself wondering how many German generations need to grow up with that shame, because of what their past generation did? If they are genuinely good people and mean well, why should they also need to feel accountable for their ancestors' crimes?
My visit and discussion with my friends about this was exactly at the peak of the European migrant crisis, when refugee's from all over the Middle East escaped their countries and flead to Europe. I would like to avoid getting too political, but due to the relevancy, I will just say that many eyes were turned to Germany, as if to say – "You can't turn them away, not after what the Nazi's did during WW2." Everyone wanted to see what they would do and basically guilted them into keeping their mouth shut.
In conclusion, I will just say that I don't think tragedies and wars should dictate where we travel to. I shouldn't prevent myself from travelling to Germany or Poland (or any other country) just because something happened so many years ago, as long as I maintain my respect, and visit at least one memorial and museum. And I truly believe that a nation shouldn't have to carry the shame of their ancestors' crimes forever, as long as they also maintain their respect.