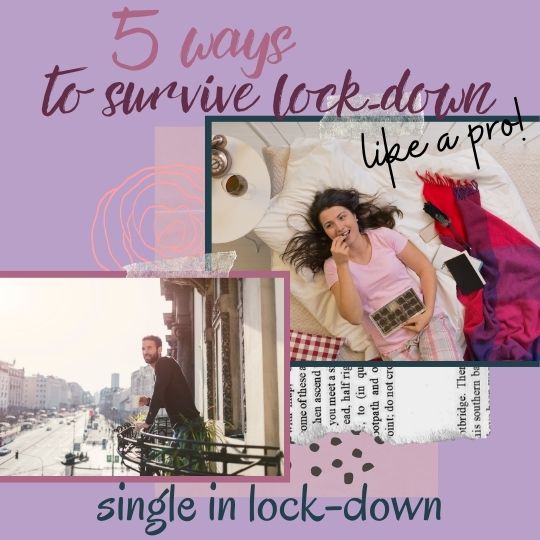 5 Ways to Survive Lockdown Like A Pro
{This post may contain affiliate links, which means I make a small commission at NO extra cost to you. See my disclosure for more details.}
The whole world is in the same boat right now… Trying to figure out how to get rid of this virus and move on with our lives. There is no foreseeable solution anywhere in the near future. Meaning we are left to live with the unknown right now. There are so many conspiracies, interpretations and versions of versions about what is going on, and what is going to go on.
** check out notes at the end for a free printable ideas list and goals 🙂
So while our governments chase their tails, and make different contradicting announcements everyday… We must somehow go on living our lives. Essential workers are still going to work right now, some are working from home and some are unemployed. Either way, nothing is the same as it used to be before the virus. Even if you're still working, chances are it's in a different format or shape/
For those of you, like me, who have been unemployed or just spending more time at home, and have a hard time maintaining and sticking to a schedule… I have compiled a list of tips to help you do just that. The following tips have helped me not only to survive lock-down, but to actually be more productive as well. Which in my opinion, is very substantial. Because you don't want to just survive lock-down, you likely want to do it like a pro.
---
1. Keeping A Schedule as Close to Normal as Possible
I know how easy it can be to get sucked into the nothingness. In the first couple of weeks of the first lockdown, all I did was basically binge watch on Netflix. It's okay to allow yourself some time to just be downright lazy… I mean, we all need that sometimes. Seeing as this lockdown is not temporary or short-term, though, it's important to know how to say enough is enough… And start making the most of what you got.
This means getting yourself out of bed in the morning, and creating a new semi-normal routine. It's important both for your mental health, and so you don't feel like you're wasting your time away. It might take a while until you get the hang of it. Until you fall into a rhythm that works. But as long as you put in the effort and don't give up, that's okay.
First of all, you should try to get up everyday around the same time, not too late. Excluding the weekend, try to get up by 9:00 am, so you can have as much of the day as possible. Then still be able to sleep at a normal time. You should also get ready and dressed for the day. And DO NOT stay in bed, even if you really are working. Also, it's super important to go to bed at a normal hour – I would say around midnight is the latest.
In one of my previous blogs, (Single In Lockdown.) I wrote a few tips to survive the cons of being single during a lockdown. The same applies here, and you can go check them out as well. You should create for yourself a schedule with all of the things you can do, within the limitations of the lockdown. (Check out my day planner template, for inspiration.)
---
2. Diverse and Interesting Schedule
While creating your schedule for the lockdown, try to be as creative and diverse as you can. Because being stuck at home, or just being able to walk around the corner, is boring enough. Think of all the different things you can do, and combine them into your daily and weekly schedule… And alternate between them. Also, make sure to incorporate activities that don't involve screens. That way, you're not sitting and staring at a screen the whole day. And you're also likely moving your body more.
There are so many online jobs these days which you can apply for. Like telemarketing, customer services or things like translation, transcribing etc. (Check out sites like Fiverr or UpWork). You can start a new hobby: writing, reading, playing an instrument, drawing, crafting, yoga / pilates, etc. Or you can learn something new by taking an online course, or self learning with books / videos. (Check out the list of ideas I made – HERE).
Try to mix and match between several different things, so you don't get bored, and it stays interesting enough for you to want to continue and to stick with it. There are so many YouTube tutorial videos, about anything and everything you could possibly think of. There are also so many colleges that offer online courses. So really, the opportunities and options are endless. All you have to do is choose what's best for you.
---
3. Self Care – Self Grooming
One of the most important things, in my opinion, for singles (especially during these difficult times)… Is to take care of themselves in every way. It starts with the basics of making sure you keep a proper hygiene routine, to feel clean and nice. It's imperative so you feel good in your own skin. I mean, no one ever likes feeling disgusting.
Then you should make sure to schedule a few pampering and relaxing days… Where you make a little extra effort to really groom yourself – from head to toe. At least as much as you can from home. (A post about a home spa date with yourself, will be posted very soon!)
Lastly, you should also make sure to stay in shape as much as you can. Not only because you're likely stuck at home and moving your body much less, but also because it helps to improve your mental health. So if you can, take a walk around the block or in a nearby park. Try to do a few home workouts a week… Again, there are so many videos on YouTube that can help you do this.
---

4. Stay connected – with friends, family and life
If you live alone, it is so easy to get stuck in your own world and disconnect from everyone. Even if you live with a friend or a flatmate, it doesn't necessarily mean you'll actually spend time with them. So my suggestion is, that if you do live with someone – try to hangout with them. Maybe have a movie night or some shared meals, etc.
You can also make sure to video chat with your friends and family… Maybe even arrange some virtual dinners or just meet-ups through Zoom. Also, you should schedule some calls during the week to your family and close friends. Make sure to keep up to date with them. Maybe even share with each other what you are feeling and going through.
And in general, it's so crucial to stay connected to life. It may sound funny, but it really is easy to bury yourself under the covers and just get lost in Netflix… Binge watching show, after show, after show. So even if you have to force yourself at first… Get out of bed, limit the time you spend on watching TV, gaming, Playstation, etc. Obviously it's okay to do it, but you should moderate it, and combine it with other productive activities.
---

5. Set goals – general, long-term big ones, and small daily / weekly goals
Setting goals is an essential part of life in general, and specifically while in lockdown. We have no idea how much longer it will last, and cannot put our lives on hold until further notice. So instead of pausing everything, we just need to do some re-calculations and evaluations. Take some time to think with yourself and start making a list of things you want to achieve.
Despite the chaos, this might actually be a great time to go after your dreams. Because now we have some extra, uninterrupted time, to do all of the things we never had time for before. So get yourself a nice cup of coffee, tea, hot-chocolate, wine, cocktail or whatever your poison is – and get creative! Yeah, life has been quite annoying and unpredictable, but when is it not?
Instead of sinking into the negative aspects, and letting them drown you… Try to focus on what you can derive from it, how you can benefit. Start creating a list of ideas, of small daily goals and large, out of this world goals. Then write down the steps to achieving them successfully. There is a great book on list creating and fulfilling dreams… You can check it out if you need some inspiration. The List: Shout Your Dreams Out Loud to Make Them Come True, by Yuval Abramovitz. (CLICK HERE for UK store)
---
The key is to find the will and forces, then develop self discipline. Sulking, being angry or irritated won't help. They'll only make it worse. So instead, divert that energy on being productive however you can under the circumstances.
Being in lockdown, especially if you had a full, hectic schedule before – can be maddening and hard. If you're single during this time, it can be even harder and scarier. But if you divert your focus away from that, and focus it instead on all the positive… You can extract from it, you just might reach wonderful places. Even more so than if we weren't in lockdown. Maybe. Who knows? I guess we wouldn't, unless we tried, right?
"You have brains in your head. And feet in your shoes. You can steer yourself any direction you choose. You're on your own. And you know what you know. And YOU are the one who'll decide where to go…"

― Dr. Seuss, Oh, the Places You'll Go!
Wishing you a productive lockdown / quarantine,
Stay safe, stay healthy and stay strong!
All my best,
Michal B.L.
CLICK HERE for a free printable and pin-able ideas list and goals list to help you be more productive during lock-down, and start taking the steps to success! 🙂
You can also CLICK HERE for my day planner template.
---
Please share or pin, and spread the love 🙂